RE-OPENING- NATIONAL POST: Programme Assistant, Manila, Philippines Country Office, G-5
Contract Type: Fixed Term Appointment
Closing date: 10 June 2019 - 5:00pm(Manila time)
Duty station: Manila, Philippines
Job ID: 20046
---
RE-OPENING: PLEASE NOTE THAT THIS VACANCY IS OPEN TO NATIONALS OF PHILIPPINES ONLY. 
 ALL APPLICANTS WHO HAVE APPLIED FOR THIS POST NEED NOT RE-SUBMIT.
The Position:
The Programme Assistant works under the overall supervision of the Country Representative and the direct supervision of the Assistant Representative. Contacts are frequent with the Programme and Monitoring and Evaluation staff in the Country Office, the sub-office established in Cotabato, and other project offices, for sharing of programme-related information.  The Programme Assistant also works closely with the operations section for programme, finance administrative and travel-related transactions.  External contacts are with the implementing partner project staff for exchange and dissemination of programme-related information and in the preparation of meetings and travel-related logistics.
This post is located in the Country Office and reports to the Assistant Representative or to the Team Leader for Programme. 
How you can make a difference:
UNFPA is the lead UN agency for delivering a world where every pregnancy is wanted, every childbirth is safe and every young person's potential is fulfilled.  UNFPA's new strategic plan (2018-2021), focuses on three transformative results: to end preventable maternal deaths; end unmet need for family planning; and end gender-based violence and harmful practices.
In a world where fundamental human rights are at risk, we need principled and ethical staff, who embody these international norms and standards, and who will defend them courageously and with full conviction.
UNFPA is seeking candidates that transform, inspire and deliver high impact and sustained results; we need staff who are transparent, exceptional in how they manage the resources entrusted to them and who commit to deliver excellence in programme results.
Job Purpose:
The Programme Assistant contributes to the development and implementation of the country programme by providing support to the management of UNFPA-supported programme and projects. As appropriate and under the direction of the Team Leader for Programme, the Programme Assistant will also contribute to the effective functioning of the Global Programming System. 
Requirements:
Qualifications and Experience
Education: 
Completed secondary level education required. First level university degree preferred.
Knowledge and Experience:
5 years of relevant office experience in administrative work, of which one year was closely related to support of programme activities;
Knowledge of ATLAS/PeopleSoft is an asset;
Proficiency in MS Word, Excel, PowerPoint, Internet and other relevant computer applications;
Good writing and  communication skills;
Fluency in oral and written English required; and
Familiarity with the UN system will be an advantage.
Languages:
Fluency in English; knowledge of other official UN languages, preferably French and/or Spanish, is desirable.
We are no longer accepting applications for this position.
Philippines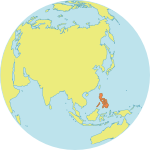 Population : 108.1 mil
Maternal Mortality Ratio
114
Contraceptives prevalence rate
56
Population aged 10-24
29%
Youth secondary school enrollment
Boys 60%
Girls 72%