RE-ADVERTISEMENT: Technical Specialist, Population and Development, Bangkok, Thailand, Asia and the Pacific Regional Office, P-4
Contract Type: Fixed Term Appointment
Closing date: 18 June 2019 - 5:00pm(New York time)
Duty station: Bangkok, Thailand
Job ID: 23786
---
The Position:
The Population and Development (PD) Technical Specialist post is located in the Asia Pacific Regional Office (APRO) of UNFPA, and is under the overall supervision of the Regional Director and reports directly to the Deputy Regional Director. S/he will contribute to research and evidence-based policy advice in the area of population dynamics. S/he will lead in the political and environmental scanning around population and development issues in the Asia-Pacific region, and analyze the implications of population dynamics to UNFPA's work at both country and regional levels. The PD Technical Specialist will work in an integrated manner with the technical, operations, programme and communications staff in the APRO.
How you can make a difference:
UNFPA is the lead UN agency for delivering a world where every pregnancy is wanted, every childbirth is safe and every young person's potential is fulfilled.  UNFPA's new strategic plan (2018-2021), focuses on three transformative results: to end preventable maternal deaths; end unmet need for family planning; and end gender-based violence and harmful practices. 
In a world where fundamental human rights are at risk, we need principled and ethical staff, who embody these international norms and standards, and who will defend them courageously and with full conviction.
UNFPA is seeking candidates that transform, inspire and deliver high impact and sustained results; we need staff who are transparent, exceptional in how they manage the resources entrusted to them and who commit to deliver excellence in programme results.
Job Purpose:
The PD Technical Specialist will play a leading role in supporting UNFPA Asia-Pacific Regional Office and UNFPA Country Offices in the Asia-Pacific Region in understanding the dynamic and evolving political environment in the region and its possible implications on the organization's work on population and development. 
The PD Technical Specialist will undertake research and analysis, and provide policy advice on possible opportunities and challenges toward achieving UNFPA's mandate, in the area of population and development, in line with the Programme of Action of the International Conference on Population and Development, the 2030 Agenda for Sustainable Development and the UNFPA Strategic Plan 2018-2021. The PD Technical Specialist will also support in providing advice and capacity building to external partners. 
Requirements:
Qualifications and Experience
Education:  
•Advanced degree in Economic Demography and/or Economics with Demography, Public Health or other fields related to the substantive area.  
Knowledge and Experience: 
• 7 years of increasingly responsible professional experience in population and development, and other relevant substantive areas;
• Demonstrated expertise in the substantive area of work; and programme experience;
• Strong track record of technical leadership, and proven ability to produce demonstrable results;
• Strong verbal and written communications skills, especially for transfer of knowledge;
• Demonstrated ability to network with the academic and development community;
• Field experience is strongly desirable
Languages: 
Fluency in English; knowledge of other official UN languages, preferably French and/or Spanish, is desirable. 
We are no longer accepting applications for this position.
Thailand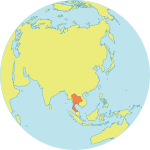 Population : 69.3 mil
Maternal Mortality Ratio
20
Contraceptives prevalence rate
78
Population aged 10-24
19%
Youth secondary school enrollment
Boys 77%
Girls 77%