Re-advertisement - Technical Specialist, Gender-biased Sex Selection (GBSS), Technical Division
Contract Type: Fixed Term Appointment
Closing date: 20 October 2020 - 5:00pm(New York time)
Duty station: New York, NY
Job ID: 33001
---
The Position:
The Technical Specialist is responsible for providing technical assistance to the Prevention of Son Preference and Gender-biased Sex Selection (GBSS): Improving the sex ratio at birth in select countries in Asia programme in all activities related to monitoring and evaluation, knowledge development and sharing, publications, financial and substantive monitoring and reporting.
You will report directly to the GBV Technical Adviser, within the Gender and Human Rights Branch, Technical Division.
How you can make a difference:
UNFPA is the lead UN agency for delivering a world where every pregnancy is wanted, every childbirth is safe and every young person's potential is fulfilled.  UNFPA's new strategic plan (2018-2021), focuses on three transformative results: to end preventable maternal deaths; end unmet need for family planning; and end gender-based violence and harmful practices. 
In a world where fundamental human rights are at risk, we need principled and ethical staff, who embody these international norms and standards, and who will defend them courageously and with full conviction.
UNFPA is seeking candidates that transform, inspire and deliver high impact and sustained results; we need staff who are transparent, exceptional in how they manage the resources entrusted to them and who commit to deliver excellence in programme results.
Job Purpose: 
As the Coordinator of the Programme, your work will contribute to build and strengthen evidence-base national policies and programmes in addressing son preference, low value of girls and gender inequalities resulting in gender-biased sex selection in identified countries of prevalence in Asia.
You will also contribute to the strengthening multi-stakeholder and multi-sectoral national capacity for advocacy, development, implementation and evaluation of policies and programmes to address son preference and gender-based sex selection Your role will be key to establish an inter-regional mechanism to monitor trends, exchange information and tools, and maintain dialogue among affected countries through south-south and triangular cooperation.
Education:  
Advanced university degree in public health, social science, demography, gender, economics, international development. The graduate or post graduate degree should preferably include credits in the principles and practice of monitoring and evaluation.  
Experience: 
• 5 years of increasingly responsible professional experience in gender, gender-based violence/harmful practices, public health or social sciences.
• Recognized expertise in monitoring and evaluation.
• Proven ability to produce demonstrable results.
• Strong verbal and written communications skills in English.
• Field experience is a strong asset.
• Fluency in English is required.  Working knowledge of another official UN language is desirable. 
• UN common system experience, especially field experience, is desirable.
Languages: 
Fluency in English; knowledge of other official UN languages, preferably French and/or Spanish, is desirable. 
We are no longer accepting applications for this position.
United States of America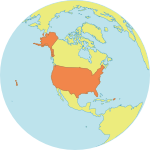 Population : 331 mil
Maternal Mortality Ratio
19
Contraceptives prevalence rate
64
Population aged 10-24
19.5%
Youth secondary school enrollment
Boys 92%
Girls 93%