Population Data Fellow, FGM Data and Research, Egypt
Contract Type: Fellowship
Closing date: 7 October 2020 - 5:00pm(New York time)
Duty station: Cairo, Egypt
---
Duration: 18 months with possibility of extension
Job Summary
The FGM Data Fellows Programme will be coordinated by the Chiefs of the GHR and PDGender & Human Rights (GHRB) and Population Data (PDB) Branches which will provide leadership and overall guidance. Technical supervision and monitoring will be under the responsibility of FGM focal points at country/regional level and/or under the Technical Specialist at PDB and the Monitoring & Evaluation Specialist at HQ/FGM coordination level.
Qualifications and Experience
Education:
University undergraduate degree or equivalent in the quantitative and/or qualitative social sciences, such as demography, public health epidemiology, statistics, sociology, economics or related discipline (such as computer science), Master's degree preferred.
Required Experience: 24 Months
Demonstrated interest and/or experience in applied statistics, public health, epidemiology, or demography;
Working knowledge of relevant statistical packages (particular in R, or related statistical tools/packages such as SAS, Stata or SPSS) and willingness to learn (or existing familiarity with) GitHub or version control systems;
Knowledge on gender related studies, especially on harmful practice including female genital mutilation is an asset;
Demonstrated experience in the use of GIS software (such as ArcGIS or QGIS) is an asset;
Familiarity and experience in carrying out descriptive statistical analysis;
Familiarity with qualitative data collection and analysis;
Computer skills (i.e. Word, Excel, PowerPoint, social media, and others);
Motivated to contribute towards peace and development and to serve others;
Good interpersonal, networking and communication skills;
Willingness to contribute and work as part of a team;
Flexible and open to learning and new experiences;
Respect for diversity and adaptability to other cultures, environments and living conditions;
Previous experience as a volunteer and/or experience of another culture, (i.e. studies, volunteer work, internship) would be highly regarded
Open to work remotely and willing to travel in other countries.
Languages:
Fluency in English and Arabic
We are no longer accepting applications for this position.
Egypt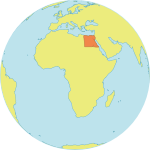 Population : 102.3 mil
Maternal Mortality Ratio
37
Contraceptives prevalence rate
44
Population aged 10-24
26.2%
Youth secondary school enrollment
Boys 82%
Girls 83%