National Post:Security Analyst, Damascus ,Syria, NOB
Contract Type: Temporary Appointment
Closing date: 26 February 2019 - 5:00pm(New York time)
Duty station: Damascus, Syria
Job ID: 21256
---
Job Summary
Programming:
Provide security policy guidance and security management support to the Country Representative and CO management team enabling effective Programme planning, implementation and delivery within the framework of all UN security policies and procedures.
Ensure the mainstreaming of security into all levels of Programme design, implementation and delivery through the substantive monitoring of ongoing and future projects and programmes providing innovative and proactive support, direction and solutions, where required.
Review the impact of current as well as future potential security factors and trends on UNFPA planning, Programme design and delivery, as well as the possible impact that Programme design might have on the stability and security, ensuring that possible support needs are identified and improvements are implemented.
Liaise and coordinate activities of partner organizations and counterparts in the planning, preparation and execution of missions, ensuring the safety and security of UNFPA staff as the highest priority.
To protect and minimize the risk to UNFPA staff, project personnel, property and    operations in all locations and at the same time enabling UNFPA Programme delivery throughout:
       - Maintain a security network of international and national personnel;
       - Participating as a member of the security cell established by DSS in country.
Education and Experience: 
An advanced university degree or equivalent in Security Risk Management, political/social or international relations, law enforcement law or related area. Service as senior military or Police will suffice with technical certification in security management with at least two relevant progressively responsible experience in the field of security risk management; within the United Nations System at the senior officer level.
Or Bachelor's degree with four years' professional experience in the in the field of security risk management; within the United Nations System at the senior officer level.
Knowledge
UNDSS/UNSMS Security Professional Certification desirable.
Practical and professional experience in the military, police or humanitarian work;
Formal training in security risk management.
Previous experience of working in a conflict/post-conflict or crisis environment is an asset.
In-depth knowledge of security management and risk management. 
Knowledge of UN/UNFPA business, operations and programming cycle. 
Knowledge of UNFPA Country Office structure; roles and responsibilities of the Resident Coordinator, Representative, DO, SMT, UNDSS and UN Security Management System.
Languages:
Fluency in English is required. Knowledge of Arabic is a strong asset.
We are no longer accepting applications for this position.
Syrian Arab Republic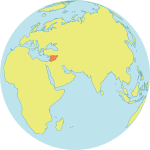 Population : 18.5 mil
Maternal Mortality Ratio
68
Contraceptives prevalence rate
60
Population aged 10-24
35%
Youth secondary school enrollment
Boys 46%
Girls 45%