NATIONAL POST:Human Resources Associate, Yangon, Myanmar Country Office
Contract Type: Fixed Term Appointment
Closing date: 10 February 2018 - 5:00pm(Rangoon time)
Duty station: Yangon, Myanmar
Job ID: 14157
---
PLEASE NOTE THAT THIS VACANCY IS OPEN ONLY TO NATIONALS OF MYANMAR.
Position Summary: 
Under the overall guidance of the International Operations Manager and with direct supervision of the Human Resources Analyst, the HR Associate ensures execution of transparent and efficient HR services and processes in CO. The HR Associate promotes a collaborative, client-oriented approach and supports to the maintenance of high staff morale.
The HR Associate can supervise clerical and support staff of the HR Unit. The HR Associate works in close collaboration with the operations, programme and projects' staff in the CO, RO and UNFPA HQs staff for resolving complex HR-related issues and information exchange.
 
The key results have an impact on the overall efficient execution of the CO HR services and consequently, result in the Operations Unit, success in implementation of HR strategies and policies. Accurate analysis and presentation of financial information enhances UNFPA credibility in HR management and ensures proper HR services in the CO. The information provided facilitates decision making of Senior Management.
Requirements:
Qualifications and Experience
Education:
 
⦁ High School Education.  University Degree in HR, Business or Public Administration would be desirable, but it is not a requirement.
 
Experience:
⦁ 6 years of progressively responsible HR and/or administrative experience is required at the national or international level. Experience in the usage of computers and office software packages (MS Word, Excel, etc.) and experience in handling of web based management systems.
⦁ Ability to work on own initiative, mature, creative and pro-active
⦁ Experience with UN/Humanitarian INGOs preferable
 
Language Requirements:
 
Fluency in English and Myanmar, both written and spoken
 
We are no longer accepting applications for this position.
Myanmar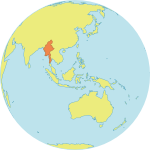 Population : 54.3 mil
Maternal Mortality Ratio
178
Contraceptives prevalence rate
54
Population aged 10-24
27%
Youth secondary school enrollment
Boys 57%
Girls 62%