National Post: Regional Project Officer
Contract Type: Fixed Term Appointment
Closing date: 21 June 2018 - 5:00pm(New York time)
Duty station: Jigjiga, Ethiopia
Job ID: 16466
---
*PLEASE NOTE THIS VACANCY IS OPEN TO NATIONALS OF ETHIOPIA ONLY*
Job Setting:
Under the direct supervision of the Regional Programme Officer (RPO) and overall guidance of the Deputy Rep, the RPJ-O (Regional Project Officer) is responsible for supporting the RPO in the Programme implementation and monitoring in the Region. The RPJ-O will provide support to the timely development of Work Plans, monitoring of their implementation and reporting. His work will cover activities both in Developmental and Humanitarian settings. 
Job Purpose:
The Project Officer assists in the design, planning and management of UNFPA's country programme by analysing relevant political, social and economic trends and providing inputs to project formulation and evaluation, joint programming initiatives and national development frameworks. The Project Officer assists with programme/ project implementation by using and developing appropriate mechanisms and systems and ensuring compliance with established procedures, as well as by monitoring results achieved during implementation. 
Education: 
Advanced university degree in social sciences or public health or related field.
 
Knowledge:
Good Knowledge of project management in humanitarian settings;
Good understanding and knowledge in the area of SRHR, Gender, Population development and/or Monitoring and evaluation
 
Languages:
Proficiency in English and knowledge of any other UN language is an advantage. Fluency in oral and written Afar is required. 
 
We are no longer accepting applications for this position.
Ethiopia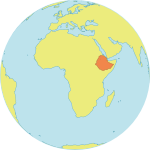 Population : 110.1 mil
Maternal Mortality Ratio
353
Contraceptives prevalence rate
41
Population aged 10-24
34%
Youth secondary school enrollment
Boys 31%
Girls 30%