NATIONAL POST: Regional Programme Officer
Contract Type: Fixed Term Appointment
Closing date: 19 June 2018 - 5:00pm(New York time)
Duty station: Gambella, Ethiopia
Job ID: 16461
---
*PLEASE NOTE THIS VACANCY IS OPEN TO NATIONALS OF ETHIOPIA ONLY*
Job Setting:
Under the direct supervision of the Deputy Representative, the overall guidance of the Representative, the Regional Programme Officer (RPO) is responsible for supporting the implementation and monitoring of the programme in the Region; S/he supervises other regional staffs assigned by the Country Office and provides technical and operational support and advises both to UNFPA's main office and the Implementing Partners in the Region. The RPO will work closely with the Programme Officers of the UNFPA Country Office, relevant regional Implementing Partners and other UN Agencies, Funds and Programmes to ensure proper and timely work plans design and implementation in the Region. The RPO will cover activities both for the Developmental and Humanitarian settings.
Job Purpose:
The Regional Programme Officer substantively contributes to the effective management of UNFPA activities in the areas of population and development, reproductive health and gender. S/he analyses and assesses relevant political, social and economic trends and provides substantive inputs to project formulation and evaluation, joint programming initiatives and national development frameworks. The Regional Programme Officer guides and facilitates the delivery of UNFPA's programmes by monitoring results achieved during implementation. S/he ensures and guides the appropriate application of systems and procedures and develops enhancements if necessary.
Education: 
Advanced university degree in social sciences or Public Health or related field
Knowledge and Experience:
Minimum of 2 years progressive experience in the area of Programme Management;
Minimum of one year of professional experiences in humanitarian settings;
Minimum of 2 years' experience in the area of SRHR, gender, population development and/or Monitoring and evaluation
Languages: 
Proficiency in English and knowledge of any other UN language is an advantage
 
We are no longer accepting applications for this position.
Ethiopia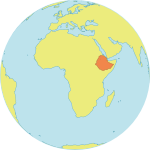 Population : 110.1 mil
Maternal Mortality Ratio
353
Contraceptives prevalence rate
41
Population aged 10-24
34%
Youth secondary school enrollment
Boys 31%
Girls 30%