NATIONAL POST: Programme Specialist,Gender Equality and Women's Empowerment (GEWE)
Contract Type: Fixed Term Appointment
Closing date: 31 October 2017 - 5:00pm(Rangoon time)
Duty station: Nay Pyi Taw, Myanmar
Job ID: 12365
---
PLEASE NOTE THAT THIS VACANCY IS OPEN ONLY TO NATIONALS OF MYANMAR.
Position Summary:
UNFPA has partnerships with the government departments, UN agencies, INGOs and local NGOs, foundations and research institutions.  UNFPA has a presence in a number of priority states/regions, integrating development, humanitarian and peace building.
The Programme Specialist is located in Nay Pyi Taw Liaison Office and reports to the UNFPA Deputy Representative, in close coordination with the head of Nay Pyi Taw Liaison Office/Assistant Representative.
The Programme Specialist, Gender Equality  and Women's Empowerment (GEWE) ensures the effective management of UNFPA activities in the areas of gender equality and women's empowerment component and mainstreaming of gender concerns to all other programme components. S/he oversees project formulation and evaluation, joint programming initiatives and national development frameworks. S/he leads the programme team and collaborates with the CO's operations/administrative support staff.
Requirements:
Qualifications and Experience 
Education: 
Advanced degree in gender, health, population, demography and/or other related social science field.
Knowledge and Experience:
Five years professional experience in the field of development and population activities, with experience in programme/ project management.
Languages:
Fluency in oral and written English and Myanmar is essential with ability to write clearly and concisely and to compose correspondence and documents in both languages. Knowledge of local languages in one of UNFPA target states and regions is an asset.
We are no longer accepting applications for this position.
Myanmar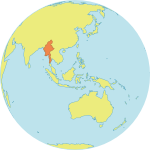 Population : 54.3 mil
Maternal Mortality Ratio
178
Contraceptives prevalence rate
54
Population aged 10-24
27%
Youth secondary school enrollment
Boys 57%
Girls 62%