NATIONAL POST: Programme Specialist (Strategic Information)
Contract Type: Fixed Term Appointment
Closing date: 23 July 2018 - 5:00pm(New York time)
Duty station: Gaborone, Botswana
Job ID: 17314
---
The Programme Specialist oversees the UNFPA 'big data" agenda and ensures the effective management of UNFPA activities in the areas of Strategic information, Monitoring & Evaluation, Data and Planning. S/he drives UNFPA's reinforced and reinvigorated strategic information focused on assessing progress in implementing Sexual and Reproductive Health and Rights(SRHR) policies, identifying programmatic gaps at national level. The incumbent plays a pivotal role in providing the evidence needed by the BCO to fulfill its strategic role in the country through data analysis on the status and trends in SRHR and Maternal Health, including modelling and mapping, to quickly and efficiently assess the impacts of past efforts and chart the way forward.
Required qualifications and experience
Advanced degree in Health Economics, Public Policy, Demography or related field.
At least five years professional experience in the design, development and operational application of strategic information systems including monitoring and evaluation of sexual and reproductive health programmes.
Required Competencies
Core Competencies
■ Commitment to UNFPA Values and Guiding Principles;
■ Developing People/Fostering Innovation and Empowerment/Performance Management;
■ Team Work/Communication/Self-Management
■ Strategic Thinking/Results Orientation and Commitment to Excellence/Decision Making;
■ Knowledge Sharing and Continuous Learning
Functional Competencies
■ Ability to lead, develop and motivate a diverse team of specialists
■ Advocacy/advancing a policy-oriented agenda
■ Results-based programme development and management
■ Leveraging the resources of national governments and partners/building strategic alliances and partnerships
■ Innovation and marketing of new approaches
■ Resource mobilization (Programme)
■ Job knowledge
We are no longer accepting applications for this position.
Botswana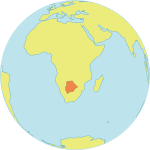 Population : 2.3 mil
Maternal Mortality Ratio
129
Contraceptives prevalence rate
59
Population aged 10-24
28%