NATIONAL POST: Programme Specialist, Honiara, Solomon Islands, Pacific Sub Regional Office, NOC
Contract Type: Fixed Term Appointment
Closing date: 31 May 2019 - 5:00pm(New York time)
Duty station: Honiara, Solomon Islands
Job ID: 22612
---
PLEASE NOTE THAT THIS VACANCY IS ONLY FOR NATIONALS OF SOLOMON ISLANDS.
The Position
The post of Programme Specialist is located in Solomon Islands as part of the UNFPA Pacific Sub-Regional Office.  Under the overall leadership and supervision of the SRH Specialist based in the Field Office, the post receives input from the Programme Management Team based in PSRO - Fiji, on the overall programme strategy to effectively delivery the Transformative Agenda interventions. S/he is part of an inter-disciplinary team, which provides integrated programme, technical and operational support within a systems strengthening approach as a foundation for UNFPA's overall strategy for the Pacific, and in delivering the Transformative Agenda in partnership with DFAT for the period 2018-2022.
How you can make a difference:
UNFPA is the lead UN agency for delivering a world where every pregnancy is wanted, every childbirth is safe and every young person's potential is fulfilled. UNFPA's new strategic plan (2018-2021), focuses on three transformative results: to end preventable maternal deaths; end unmet need for family planning; and end gender-based violence and harmful practices. In a world where fundamental human rights are at risk, we need principled and ethical staff, who embody these international norms and standards, and who will defend them courageously and with full conviction. UNFPA is seeking candidates that transform, inspire and deliver high impact and sustained results; we need staff who are transparent, exceptional in how they manage the resources entrusted to them and who commit to deliver excellence in programme results.
Job Purpose:
The Programme Specialist will work closely with the International SRH Specialist to support the implementation of interventions funded through the Transformative Agenda at the national and sub-national levels and to ensure that the agreed strategic interventions are implemented in the context of the 2030 Agenda, ICPD Programme of Action and UNFPA Strategic Plan at the global level, the UN Pacific Strategy, UNFPA sub-regional programme at the regional level, and the national development agenda of the host country.  
S/He supports the integrated Programme Management team in general and the International SRH Specialist in particular, by contributing to the analysis of political, social and economic trends, the formulation, management and evaluation of programme activities at a national level and the provision of integrated programme and operational support.The position is expected to support close engagement with the Government line ministries (particularly the Ministry of Health), academic and research institutions, relevant civil society organizations and CBOs, the local bilateral partners in country and international development agencies to ensure effective programme implementation as per the agreed strategic direction and work plan timeframe.
Requirements:
Qualifications and Experience
Education:  
An Advanced (Master's) degree in Public Health, Medicine, Sociology, Demography, Economics, International Relations, International Development, Public Administration/Management or other related Social Science field.
Knowledge and Experience: 
Minimum of five (5) years professional experience preferably in programme/project management in the public or private sector especially in International Development 
Substantive knowledge and practical experience in population, reproductive and sexual health programming.
Sound knowledge of the social and cultural realities of the region.
Strong research and analytical skills.
Field experience is an asset.
Familiarity with UN procedures and working methods, particularly with UNFPA's agenda, policies and procedures, is highly desirable;
Proficiency in MS Office Packages, database management and the Internet.
Languages: 
Fluency in English is required. Fluency in local Pacific language is an advantage.
We are no longer accepting applications for this position.
Solomon Islands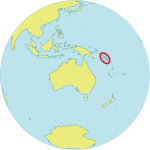 Population : 0.6 mil
Maternal Mortality Ratio
114
Contraceptives prevalence rate
32
Population aged 10-24
32%