National Post: Programme Officer,Resilience,Syria, TA, NOA
Contract Type: Temporary Appointment
Closing date: 13 February 2019 - 5:00pm(New York time)
Duty station: Various, Syria
Job ID: 20913
---
 In collaboration with UN agencies, Implementing Partners (IPs), local government, and other partners, contributes substantively to the implementation of joint program in line with agreed indicators and goals of the project. Contributes to ensuring quality of Programme / project design incorporating lessons learned, newly developed policies and best practices and establishing appropriate execution and monitoring mechanisms and systems.
Supports Program Specialist to better understand the local context and in analyzing and interpreting the political, social and economic environment relevant to population and development, reproductive health, youth and gender, and identifies opportunities for UNFPA assistance and intervention.
 Keeps abreast of new policy developments and strategies analyzing policy papers, strategy documents, national plans and development frameworks, and prepares briefs and inputs for policy dialogue, technical assistance coordination, and development frameworks.
 Backups the Program Specialist to expedite and coordinate project implementation maintaining collaborative relationships with executing agencies, IPs, experts, local government, community leaders and other UN agencies facilitating timely and efficient delivery of project inputs and addressing training needs of project personnel.
 Helps create and document knowledge about current and emerging population development trends, RH and gender issues, by analyzing Programme, projects, strategies, approaches and ongoing experience for lessons learned, best practices, and shares with management for use in knowledge sharing and planning future strategies.
  Assists advocacy and resource mobilization efforts of Country Office by preparing relevant documentation, i.e. project summaries, speeches, contribution to reporting, donor profiles, and participating  in donor meetings and public information events.
other duties and experience. 
Education: 
Advanced degree in health, population, demography and/or other related social science field. Experience in resilience programing is an asset.
Or Bachelor's degree with Two years' professional experience in the field of development and population activities, preferably in Programme/ project management.
Knowledge and Experience:
Strong verbal and written communications skills
Field experience
EU program implementation experience is a strong asset.
Languages:
Fluency in both written and spoken English and Arabic  
We are no longer accepting applications for this position.
Syrian Arab Republic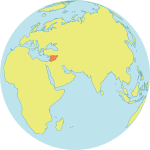 Population : 17.5 mil
Maternal Mortality Ratio
31
Contraceptives prevalence rate
37
Population aged 10-24
28.2%
Youth secondary school enrollment
Boys 49%
Girls 48%