NATIONAL POST: Programme Assistant, Gender, Afghanistan Country Office, G5
Contract Type: Fixed Term Appointment
Closing date: 11 August 2018 - 5:00pm(Kabul time)
Duty station: Kabul, Afghanistan
Job ID: 17597
---
PLEASE NOTE THAT THIS VACANCY IS OPEN ONLY TO NATIONALS OF AFGHANISTAN.
Position summary:
Under the direct supervision of the Gender Specialist, and with overall guidance of the programme team, the Programme Assistant delivers quality programme support services to principally internal but also external clients, mastering all relevant rues, guidelines, processes and procedures. S/He is client and results-oriented in service of the country programme.
S/He also applies established systems and procedures and assists in the creation of substantive knowledge by compiling, synthesizing and analyzing information relevant to population and development, reproductive health and gender issue. 
Requirements:
Qualifications and Experience
Education: 
Completed secondary level education required. Bachelor's degree in finance, public health, population, economics, demography and/or other related social sciences field is preferable.
Knowledge and Experience:
5 years of relevant experience in social sector/programme development would be an asset
Knowledge on results based management
Working in team
Time management and multi-tasking ability
Knowledge of asset management
Knowledge of financial management
Proven skills in communication and writing
Ability to express clearly and concisely ideas and concepts in written and oral form
Knowledge of computer systems and applications (Word, Excel and PowerPoint)
Languages: Fluency in English and knowledge of the local languages (Dari and Pashto) is required.
We are no longer accepting applications for this position.
Afghanistan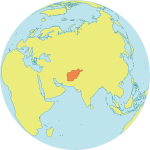 Population : 38.9 mil
Maternal Mortality Ratio
638
Contraceptives prevalence rate
18
Population aged 10-24
35.3%
Youth secondary school enrollment
Boys 63%
Girls 37%