NATIONAL POST: Programme Analyst, RHCS, Nay Pyi Taw, Myanmar Country Office
Contract Type: Fixed Term Appointment
Closing date: 8 January 2018 - 5:00pm(Rangoon time)
Duty station: Nay Pyi Taw, Myanmar
Job ID: 13521
---
PLEASE NOTE THAT THIS VACANCY IS OPEN ONLY TO NATIONALS OF MYANMAR.
Position Summary:
The Programme Analyst, Reproductive Health Commodity and Security (RHCS) as a member of Country Office team is based in Nay Pyi Taw and reports to the UNFPA Assistant Representative.
Job Purpose
UNFPA's Fourth Country Programme Document (2018-2022) for Myanmar was approved by the Executive Board in September 2017. The Programme focuses on three key areas of intervention 1) sexual and reproductive health) 2) gender equality and women's empowerment and 3) population dynamics. The proposed Country Programme is aligned with new UNFPA's Strategic Plan 2018-2021 and the first United Nations Development Assistance Framework (2018-2022). Youth and adolescents as well as gender equality and related human rights, are mainstreamed throughout the programme.
UNFPA has partnerships with the government departments, UN agencies, INGOs and local NGOs, foundations and research institutions.  UNFPA has a presence in a number of priority states/regions, integrating development, peace building and humanitarian.
The Programme Analyst, RHCS ensures the effective management of UNFPA supported Reproductive Health Commodity Security related programmes, comprising of family planning commodities, maternal health life-saving medicines and emergency kits and supplies. S/he also oversees procurement planning, forecasting and budgeting, procurement ordering, inventory tracking and monitoring, reporting, logistics management information systems, policy and advocacy. The Programme Analyst will also have working relations with the operations and programme staff members, considering the commodity requirements across the country programme including commodities to respond to humanitarian need.
Requirements:
Qualifications and Experience 
Education: 
• Advanced degree in Public Health, Medicine, Social Science or other related social science field.
Knowledge and Experience:
• Minimum two years of increasingly responsible relevant professional experience, preferably in programme/project management
• Proven working experience in supply chain management of reproductive health commodities. This include contraceptive forecasting, procurement planning, warehouse management, in-country distribution, eLMIS 
• State of the art knowledge on family planning and contraceptive technologies
• Knowledge of conflict sensitivity and do no hard approach is an asset.
Languages:
• Fluency in English and Myanmar is required.
 
We are no longer accepting applications for this position.
Myanmar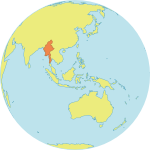 Population : 53.9 mil
Maternal Mortality Ratio
178
Contraceptives prevalence rate
53
Population aged 10-24
27%
Youth secondary school enrollment
Boys 54%
Girls 59%