National Post: Procurement Associate,SC6,Damascus Syria
Contract Type: Service Contract
Closing date: 25 May 2019 - 5:00pm(New York time)
Duty station: Damascus, Syria
Job ID: 23258
---
Job Summary
1.Ensures implementation of procurement strategies focusing on achievement of the following results:
Full compliance of procurement activities with UNFPA rules, regulations, policies and strategies.
   Provision of inputs to the CO Procurement business processes mapping and elaboration of internal Standard Operating Procedures (SOPs) in Procurement and Logistics in consultation with the direct supervisor and office management.
2.Supports procurement processes focusing on achievement of the following results:
 Provision of inputs to preparation of procurement plans for the office.
 Support to organization of procurement processes including preparation of Requests for Quotations Invitations to Bid, and Requests for Proposals documents, receipt of quotations, bids or proposals, their preliminary evaluation.
Preparation of Purchase orders and contracts in and outside Atlas, preparation of Recurring Purchase orders for contracting of services, vendor creation in Atlas, maintenance of the filing system in the procurement Unit.  Buyers profile in Atlas.
 Assist in the preparation of submissions to the Contract Review Committee (CRC)
 Implementation of the internal control system which ensures that Purchase orders are duly prepared and dispatched. Timely corrective actions on POs with budget check errors and other problems.
 Perform any other procurement related tasks as needed.
.Follow up on orders to ensure timely delivery of goods and services as stipulated in the Purchases Orders; liaise with the suppliers, country offices and inspection agencies in order to resolve problem deliveries such as product damage or quality issues that may lead to batch rejections, potential import problems, cargo retention at port of entry or logistic matters among others; with the ultimate goal of ensuring the delivery of the commodities to the Consignee/s
Work on solutions to address stock-out situations
  Negotiate with suppliers on cases of late/non-deliveries
3.Negotiate with suppliers on cases of damaged or non-compliant Contributes to  implementation of sourcing strategy focusing on achievement of the following result:
Update of the rosters of suppliers.
Timely conducted market surveys as needed (ex. Travel Agencies, vehicle maintenance, hotel and conference facilities, etc.).
Monitor CO compliance with the Procurement Procedures (thresholds, vendor evaluation, ethics, supplier relations etc.);
  Work with the supply team and other partners as applicable in streamlining the procurement function of the CO through initiatives such as generating country-specific strategies.
Serve as a facilitator or contribute to learning materials production incl. Standard Operating Procedures (SOP) or other internal documents;
4.Ensures proper control of UNFPA Assets focusing on achievement of the following result:
Preparation of inventory and assets reports.
Implementation of Inventory and physical verification check-up in the CO and projects.
5.Ensures provision of logistical services focusing on achievement of the following results:
Purchase Orders preparation and arrangement of shipments.
Preparation of customs clearance/ exemptions correspondence.
6.Supports knowledge building and knowledge sharing in the CO focusing on achievement of the following results:
Participation in the trainings for the operations/ projects staff on Procurement.
Contributions to knowledge networks and communities of practice.
Education:
High School or bachelor's degree in business administration of any related field
University degree or equivalent certification in Public or Business administration, Procurement, Logistics, Marketing, Commerce, Engineering, Law or related discipline would be very useful and weighted accordingly, but is not a requirement.
Experience:
HS + 6 years of experience or BA with 3 years of relevant administrative experience is required at the national or international level. Experience in the usage of computers and office software packages (MS Word, Excel, etc.) and knowledge of automated procurement systems, experience in handling of web-based management systems.
Experience in administration/operations is considered an asset
Experience in working with International procurement and logistics is desirable.
Knowledge of RH commodities and medical terminology is an asset.
CIPS 2 Certificate is an asset
Language Requirements:
Fluency in English and Arabic.
We are no longer accepting applications for this position.
Syrian Arab Republic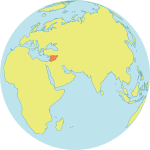 Population : 18.5 mil
Maternal Mortality Ratio
68
Contraceptives prevalence rate
60
Population aged 10-24
35%
Youth secondary school enrollment
Boys 46%
Girls 45%