NATIONAL POST- Procurement Associate, Dhaka, Bangladesh Country Office, G6
Contract Type: Fixed Term Appointment
Closing date: 13 July 2018 - 5:00pm(Dhaka time)
Duty station: Dhaka, Bangladesh
Job ID: 17193
---
PLEASE NOTE THAT THIS VACANCY IS ONLY FOR NATIONALS OF BANGLADESH.
Position summary:
The Procurement Assistant position is located in the UNFPA office in Dhaka, Bangladesh with the Operations Team and reports to The Operations Manager. This post specifically serves the procurement and contracting needs of Country Office, field offices and project requirements within the country.
In direct support of UNFPA's country Programme to achieve the ICPD goals and MDGs, and in connection with the Procurement Policy formulation and strategic thinking, ensure proper and effective use of UNFPA's resources.
You will report directly to the International Operations Manager.
The Procurement Assistant provide necessary support in close collaboration with programme and project teams in the CO for resolving all procurement-related issues and information delivery.
Under the direct supervision of the International Operations Manager, the Procurement Assistant provides assistance in execution of procurement services in CO ensuring their effectiveness, transparency and integrity. The Procurement Assistant supports a client-focused, quality and results-oriented approach in the unit.
Requirements:
Qualifications and Experience
6 years of relevant professional experience in procurement, logistics and administration with development agencies
Familiar with computer based ERPs
Strong exposure to work during crisis and humanitarian response is to be considered as asset
Education: 
Completed Secondary Level Education required. University degree in business or any other relevant field is preferable.
Certification or training related to humanitarian logistics is essential
Languages:
Fluency in English
We are no longer accepting applications for this position.
Bangladesh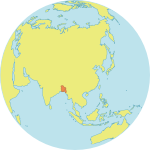 Population : 166.4 mil
Maternal Mortality Ratio
176
Contraceptives prevalence rate
64
Population aged 10-24
29%
Youth secondary school enrollment
Boys 60%
Girls 67%