National Post: Operations Analyst
Contract Type: Fixed Term Appointment
Closing date: 26 June 2018 - 5:00pm(New York time)
Duty station: Kinshasa, DRC
Job ID: 16846
---
*PLEASE NOTE THAT THIS VACANCY IS OPEN ONLY TO NATIONALS OF THE DEMOCRATIC REPUBLIC OF CONGO*
Job Setting:
The Operations Analyst post is located in UNFPA DRC main office in Kinshasa, and reports to the IOM, in the Operations unit.
Job Purpose:
Under the overall supervision of the Country Representative and direct supervision of the Operations Manager, the Operations Analyst serves as a back up to the IOM, focusing on the procurement and contracting needs of the Country Office (with support extended to Decentralized Offices)
The Operations Analyst ensures proper and effective use of UNFPA's and external partners' resources in terms of the following:
Assisting all relevant CO staff  in defining and costing their procurement and logistics needs in accordance with the approved Annual Work Plans on a yearly basis;
Managing and safeguarding the integrity of the UNFPA procurement policies, procedures and practices;
Building capacity by advising programme staff and external parties on all aspects of procurement and logistics management implementation and organization;
Representing the UNFPA in UNCT working groups on procurement and Long Term Agreements, and on Government and NGO Committees that deal with procurement using UNFPA core or co-financing funds.
The Operations Analyst delivers quality services in procurement to internal and external clients; mastering all relevant rules, guidelines, processes, and procedures.  He/She takes a client-oriented, results-focused approach to interpreting the rules, procedures and guidelines in service of the country programme; providing support and guidance to the Country Office and UNFPA supported programmes.
He/she supports the IOM in other functions of overseeing work within the Administrative unit.
Education:  
•  University degree in commerce, business administration or related field.
•   Advanced university degree in business administration, procurement or related field is advantage.
Knowledge and Experience: 
Prior experience in procurement operations and general administration in a multi-cultural environment.
Proficiency in current office software applications.
Proficiency in Atlas, PeopleSoft, and other computerized applications used by the UN is and asset.
Languages: 
Fluency in French, a working knowledge of  English is required. 
We are no longer accepting applications for this position.
Congo, Democratic Republic of the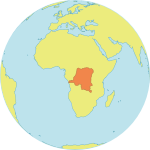 Population : 86.7 mil
Maternal Mortality Ratio
693
Contraceptives prevalence rate
25
Population aged 10-24
32%