NATIONAL POST: Local Security Associate, Islamabad, Pakistan Country Office, GS-6
Contract Type: Fixed Term Appointment
Closing date: 23 March 2018 - 8:00am(New York time)
Duty station: Islamabad, Pakistan
Job ID: 15091
---
PLEASE NOTE THAT THIS VACANCY IS ONLY FOR NATIONALS OF PAKISTAN.
Closing date: 23 March 2018 (5 pm Islamabad time) (8 am New York time)
Position summary:
The Local Security Associate provides assistance in his/her role for facilitating/coordinating implementation of approved and recommended security risk management measures (including Residential Security Measures), SRM/MOSS compliance verification and other matters pertaining to safety and security of UNFPA personnel, premises and assets. The LSA, being a local associate, must always conduct his/her functions in close cooperation with UNDSS, the International Operations Manager and the UNFPA Regional Security Adviser. S/He is accountable to the UNFPA Representative who has the overall accountability for security in accordance with the UNFPA Security Accountability Policy. The LSA works under the technical guidance of the UNFPA Regional Security Advisor (RSA) for functional security matters.
Requirements:
Qualifications and Experience 
Education: 
Completed Secondary Level Education required. First level university degree desirable in Political Science or equivalent and applicable security and military training;
Knowledge and Experience:
• Six years of relevant experience in security, preferably in the military or police context or related field of work.
•  Experience in a UN/international related environment is an advantage.
• Demonstrating/safeguarding ethics and integrity; good relations and influence with national security organizations is highly desirable.
• Fully conversant with MS Office applications,
• Basic understanding of communications devices and satellite phone principles
Languages:
Fluency in English is required, knowledge of Urdu and local languages is an asset.
We are no longer accepting applications for this position.
Pakistan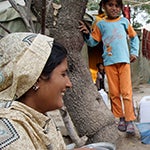 Population : 200.8 mil
Maternal Mortality Ratio
178
Contraceptives prevalence rate
41
Population aged 10-24
29%
Youth secondary school enrollment
Boys 50%
Girls 41%