National Post: Human Resources Associate, G-6-Client Services, Client Services and Outreach Branch, Division for Human Resources, Bangkok, Thailand
Contract Type: Fixed Term Appointment
Closing date: 31 December 2020 - 5:00pm(New York time)
Duty station: Bangkok, Thailand
Job ID: 33945
---
The Position
As a member of the Client Services Team serving the Regional and Country Offices, you will be providing administrative support in all aspects of the employee lifecycle and supporting the Human Resources Business Partner (HRBP) and Regional Human Resources Analyst/Specialist in delivering high-quality Human Resources services and programmes to clients in the Regional Office and in Country Offices.
You will report to the HR Business Partner.
How you can make a difference:
UNFPA is the lead UN agency for delivering a world where every pregnancy is wanted, every childbirth is safe and every young person's potential is fulfilled.  UNFPA's strategic plan (2018-2021), focuses on three transformative results: to end preventable maternal deaths; end unmet need for family planning; and end gender-based violence and harmful practices. These results capture our strategic commitments to accelerating progress towards realizing the ICPD and SDGs in the Decade of Action.
In a world where fundamental human rights are at risk, we need principled and ethical staff, who embody these international norms and standards, and who will defend them courageously and with full conviction.  UNFPA is seeking candidates that transform, inspire and deliver high impact and sustained results; we need staff who are transparent, exceptional in how they manage the resources entrusted to them and who commit to deliver excellence in programme results.
Job Purpose:
The Human Resources Associate, Client Services will be providing administrative support in all aspects of the employee lifecycle and supporting the Human Resources Business Partner (HRBP) and Regional Human Resources Analyst/Specialist in delivering high-quality Human Resources services and programmes to clients in the Regional Office and in Country Offices.
You would be responsible for:
Providing HR administrative support to the execution of the full lifecycle of recruitment management processes for all recruited staff in the region:
In close collaboration with the Human Resources Analyst/Specialist, assist in organization of recruitment processes (vacancy announcement, interview logistics, document management) for UNFPA internationally and locally recruited staff at regional and field locations and onboarding/offboarding, including liaising with Corporate DHR & UNDP BES / local UNDP colleagues, manage contract extensions, and separations;
Create/update RPAs through UNDP HR Workbench, verify chart fields (COAs), and update COA information, set up vendor. Timely follow up with Finance staff and/or HR Information Associate on COA;
Prepare long list of candidates in the e-Recruit system in accordance with established procedures and quality standards; test e-Recruit upgrades as required;
Prepare post establishment and change requests;
Maintain the integrity and objectivity of the recruitment process ensuring compliance with UNFPA's Human Resources policies and recruitment objectives;
Provide input and status updates in recruitment plans and metrics monitoring/reporting;
Prepare documents and learning materials related to recruitment and onboarding, support regional learning and training initiatives of non-Human Resources staff involved in recruitment in Country Offices;
Support the on-boarding process of newly recruited staff by providing orientation on applicable entitlements, rules, regulations, and procedures, and by organizing their respective briefing agendas as well as support the off-boarding process of staff exiting from the organization or change of contracts;
Serve as Field focal point on consultant management; provide clarification and guidance to field offices on the application of the guidelines and policy on consultants; review exceptions and provide regular reports to the Director's Office;
Responsible for recruitment and onboarding of interns/fellows/volunteers in UNFPA in accordance with related policies, rules, regulations and practice; provide administrative support, as required, to JPO (Junior Professional Officers) programme.
Providing administrative support and Human Resources data maintenance:
Establishing and maintaining Human Resources files/records in a confidential and secure manner;
Collect and support the interpretation and analysis of Human Resources data to help inform decision making on Human Resources processes and strategies;
Support the development and implementation of data collection systems to optimize data quality;
Maintenance of the regional staffing table: workforce and staffing data analytics for various management reports, management reviews, audit reporting and others as needed;
Ensure compliance of records and reports with UN rules, regulations, UNFPA policies, procedures and strategies, effective implementation of the internal control framework;
Monitor contractual status of staff: advise on appointments, extensions and separations; inform Human Resources Analyst / Specialist on staffing issues to be followed up with the respective Human Resources Business Partner;
Liaise with UNFPA Travel Unit on UNLPs issuance/extension;
Facilitate response to audit findings and recommendations
Supports implementation of learning & performance management practices and career development strategies, policies and practices, focusing on achievement of the following results:
Support to Human Resources Regional team in implementation of all elements of performance cycle; facilitation of the performance appraisal process by responding to staff queries and maintenance of the related data;
Facilitate individual and organizational learning plans in consultation with the Human Resources Regional Team;
Support the regional completion of global staff surveys, analysis and follow-up to recommendations from survey results;
Participate as a resource person in capacity building initiatives to enhance the competencies of clients/stakeholders.
Coordinate and provide necessary onboarding support and orientation briefing to new staff.
Administering and implementing Human Resources Client Services and policies:
Provide general, standard information to the management and staff on HR strategies, rules and regulations;
Process, draft, edit, proofread and finalize for approval a variety of correspondence and other communications;
Prepare written response to queries concerning HR related matters.\
Providing administrative support to Human Resources Programme delivery:
Guide and support managers and staff on the basic procedures and use of the performance appraisal system, monitoring regional compliance with the review process;
Provide administrative support and logistical arrangements for the delivery of learning and development activities and programmes and coordinate the collection of training and development needs in the region;
Respond to staff questions, with the guidance, as necessary, of HRBP and HR Specialist;
Prepare agendas, research and document information for meetings involving issues and projects deemed necessary by the Director of DHR/Branch Chief/HRBPs; participate, as requested, in meetings/events, including minute taking; proactively ensure successful execution of the above;
Support meetings with high-ranking visitors, ensuring appropriate protocol and procedures for all appointments and meetings.
Perform any other duties as may be required by the HRBP or the Deputy HR Director.
Required Qualifications and Experience
Secondary Education;
6 years of progressively responsible HR and/or administrative experience is required;
Experience in the usage of computers and office software packages (MS Word, Excel, etc.) and experience in handling web-based management systems;
Fluency in English; knowledge of other official UN languages, preferably French and/or Spanish, is desirable.
Required competencies
Values:
Exemplifying integrity;
Demonstrating commitment to UNFPA and the UN system;
Embracing cultural diversity;
Embracing change
Core Competencies:
Achieving results;
Being accountable;
Developing and applying professional expertise/business acumen;
Thinking analytically and strategically;
Working in teams/managing ourselves and our relationships;
Communicating for impact
Functional Competencies:
Providing logistical support;
Managing Data;
Managing documents, correspondence and reports;
Managing information and workflow;
Planning, organizing and multitasking;
Job knowledge/technical expertise
These are national positions, candidates must be nationals of the duty station.
Duration:  One year fixed-term*[i]  No expectancy of renewal in accordance with UN Staff Regulations 4.5 
UNFPA Work Environment
UNFPA provides a work environment that reflects the values of gender equality, teamwork, Embracing diversity in all its forms, integrity and a healthy balance of work and life. We are committed to maintaining our balanced gender distribution and therefore encourage women to apply. UNFPA promotes equal opportunities for all including persons with disabilities.
Compensation and Benefits
This position offers an attractive remuneration package commensurate with the level of the post.   The package includes a competitive net salary, health insurance and other benefits.
Disclaimer
WARNING TO APPLICANTS: UNFPA does not charge any application, processing, training, interviewing, testing or other fee in connection with the application or recruitment process. Should you have received a solicitation for the payment of a fee, please disregard it. Furthermore, please note that emblems, logos, names and addresses are easily copied and reproduced. Therefore, you are advised to apply particular care when submitting personal information on the web. Should you feel that you have received a fraudulent notice, letter or offer that makes use of the name or logo of UNFPA, you may submit a report through the UNFPA fraud hotline http://www.unfpa.org/help/hotline.cfm
We are no longer accepting applications for this position.
Thailand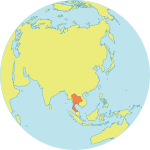 Population : 69.8 mil
Maternal Mortality Ratio
37
Contraceptives prevalence rate
56
Population aged 10-24
19.1%
Youth secondary school enrollment
Boys 77%
Girls 78%