NATIONAL POST: Finance Associate, Mogadishu, Somalia G-6 - Re Opened
Contract Type: Fixed Term Appointment
Closing date: 23 May 2018 - 5:00pm(New York time)
Duty station: Mogadishu, Somalia
Job ID: 15553
---
Job Summary - (Please note TOR has been corrected)
The Finance Associate position is located in Mogadishu Country Office and reports directly to the International Operations Manager.
Under the overall supervision of the Head of Office and the direct supervision of the International Operations Manager the Finance Associate assists in the overall management of financial services in the Country Office. He/she facilitates effective execution of processes and procedures in accordance with UNFPA's rules and regulations, ensuring quality and accuracy of work, and transparent utilization of financial resources. The Finance Associate works as part of the Operations team and in close collaboration with the Programme staff in the country office, promoting a results-oriented approach and facilitating information exchange between staff. He/she works closely with programme and project staff providing financial monitoring and analysis of projects and advising managers on expenditure trends and implementation rates. 
Education:  
Completed Secondary Level Education required.  Specialized certification in Accounting and Finance and University Degree in Business or Public Administration would be desirable, but it is not a requirement.
Knowledge and Experience:
Six years of progressively responsible finance, administration or office management experience and specialized knowledge of accounting systems is required at the national or international level.    
Experience in the usage of computers and office software packages (MS Word, Excel, etc.) and advance knowledge of spreadsheet and database packages, experience in handling of web based management systems.
Other Desirable Skills:
Assisting in the financial management of the CO
Proven ability to careful management of details is a must including precise use of written language
Attention to quality and capacity to meet deadlines.
Languages:
Fluency in spoken and written English. Working knowledge of Somali is essential.
We are no longer accepting applications for this position.
Somalia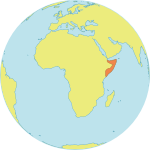 Population : 15.2 mil
Maternal Mortality Ratio
732
Contraceptives prevalence rate
30
Population aged 10-24
33%