National Post: Finance Associate
Contract Type: Fixed Term Appointment
Closing date: 1 June 2018 - 5:00pm(Johannesburg time)
Duty station: Johannesburg, South Africa
Job ID: 16353
---
*PLEASE NOTE THAT THIS VACANCY IS OPEN ONLY TO NATIONALS OF SOUTH AFRICA AND NON-NATIONALS WHO HOLD WORK PERMITS OR WHO ARE PERMANENT RESIDENTS OF SOUTH AFRICA*
Job Setting
The Finance Associate position is located in the East and Southern Regional Office of UNFPA, Johannesburg in the Integrated Sexual and Reproductive Health and Rights Unit (Youth Team). The Finance Associate is part of a team working on the implementation of UNFPA ESARO flagship programme on adolescents and young people sexual and reproductive health and rights. 
Job Purpose
The Finance Associate contributes to the implementation of the Safeguard Young People Programme - a youth programme implanted in eight countries in Southern Africa by providing administrative support to the youth team and the SRHR Unit at large. As appropriate and under the direction of the SYP Regional Coordinator the Finance Associate will also contribute to research, financial management, procurement and operational and procedural guidance.
Education:  
Completion of secondary school
Undergraduate/first degree in public administration, finance, accounting or economics is desirable.
Knowledge and Experience: 
6 years previous relevant experience;
Strong interpersonal and organizational skills;
Computer literacy - Word, Excel, Power-point, etc.;
Good knowledge of Atlas / Peoplesoft or other ERP system;
Good writing and communication skills.
Demonstrated ability to work in a team environment
Languages: 
Fluency in English. Working knowledge of French and/or Portuguese, an asset.
We are no longer accepting applications for this position.
South Africa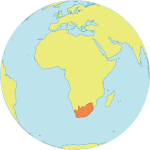 Population : 57.4 mil
Maternal Mortality Ratio
138
Contraceptives prevalence rate
57
Population aged 10-24
27%
Youth secondary school enrollment
Boys 65%
Girls 65%