National Post: Driver, TA, Deir Ezzor, Syria, G2
Contract Type: Temporary Appointment
Closing date: 30 April 2019 - 5:00pm(New York time)
Duty station: Deir Ezzor, Syria
Job ID: 22803
---
Job Summary
Drives for UN officials and staff.  Ensures provision of reliable and safe driving services by a) driving office vehicles for the transport of UN staff, officials and visitors and delivery and collection of mail, documents and other items, and b) meeting official personnel and visitors at the airport including visa and customs formalities arrangement when required.
Ensures cost-savings through proper use of vehicle through accurate maintenance of daily vehicle logs, provision of inputs to preparation of the vehicle maintenance plans and reports.
Ensures proper day-to-day maintenance of the assigned vehicle through timely minor repairs, arrangements for major repairs, timely changes of oil, check of tires, brakes and water levels, car washing, etc so that the vehicle is kept clean and in good running condition at all times.
Ensures proper use of vehicle maintenance plans and assistance in preparing vehicle history report.
Ensures availability of all the required documents/supplies including vehicle insurance, vehicle registration, vehicle logs, office directory, map of the city/country, first aid kit, and necessary spare parts in the assigned vehicle.
Keeps track of insurance and other tax formalities
Ensures that the steps required by rules and regulations are taken in case of involvement in an accident.
When necessary, translates in local language for the head of the office and/or official personnel using the car.
Assists office staff in filing, photocopying and maintaining stores when required.  Assists in the mailing and distribution of newsletters and publications and arranges to pay office telephone and other bills, as required.
Performs other tasks as assigned by the supervisor.
Education:   Completed Secondary Level education.
Knowledge and Experience: 
Valid driver's license
Two years work experience as a driver in an international organization, embassy or UN system with a safe driving record.
Knowledge of driving rules and regulations, chauffeur protocol and courtesies, and local roads and conditions
Skills in minor vehicle repairs
Languages: Fluency in Arabic; basic knowledge of English required; working knowledge of English an asset.
We are no longer accepting applications for this position.
Syrian Arab Republic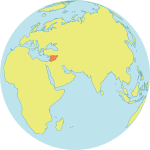 Population : 17.5 mil
Maternal Mortality Ratio
31
Contraceptives prevalence rate
37
Population aged 10-24
28.2%
Youth secondary school enrollment
Boys 49%
Girls 48%