NATIONAL POST: Chargé(e) de Programme Adolescents et Jeunes, République Démocratique du Congo, NO-C
Contract Type: Fixed Term Appointment
Closing date: 29 March 2019 - 5:00pm(New York time)
Duty station: Kinshasa, Democratic Republic of the Congo
Job ID: 21902
---
PLEASE NOTE THAT THIS VACANCY IS ONLY FOR NATIONALS OF DEMOCRATIC REPUBLIC OF THE CONGO.
The Position
Le/la Programme Spécialiste  Adolescents et Jeunes contribue efficacement à l'atteinte des résultats du Programme dans les domaines de la Santé Sexuelle et de la Reproduction, des droits humains, du développement du potentiel des Adolescents et des Jeunes. Il/elle est responsable de la conceptualisation, de la planification, de la mise en œuvre et du suivi du volet Santé Sexuelle et de la Reproduction du Programme de coopération entre l'UNFPA et la RDC (gouvernement et société civile) conformément au plan stratégique de l'UNFPA et au plan d'action de la CIPD. 
How you can make a difference:
UNFPA is the lead UN agency for delivering a world where every pregnancy is wanted, every childbirth is safe and every young person's potential is fulfilled. UNFPA's new strategic plan (2018-2021), focuses on three transformative results: to end preventable maternal deaths; end unmet need for family planning; and end gender-based violence and harmful practices. 
In a world where fundamental human rights are at risk, we need principled and ethical staff, who embody these international norms and standards, and who will defend them courageously and with full conviction.
UNFPA is seeking candidates that transform, inspire and deliver high impact and sustained results; we need staff who are transparent, exceptional in how they manage the resources entrusted to them and who commit to deliver excellence in programme results.
Qualifications and Experience
Exigences académiques:
Diplôme universitaire du niveau supérieur (maîtrise ou plus) en santé publique, sociologie, démographie ou domaine connexe
Des formations spécifiques en matière de Santé Sexuelle et de la Reproduction seront des atouts.
Expérience de travail:
Avoir au moins 5 ans d'expérience professionnelle de préférence dans la gestion des programmes/projets de santé dans le secteur public ou privé ; dont au moins trois ans d'expérience dans la gestion de  programmes Santé Sexuelles et Reproductive
Avoir une expérience dans l'élaboration des stratégies, la gestion axée sur les résultats, le suivi et l'évaluation de programmes de développement
Avoir des compétences avérées dans la rédaction de rapports et la publication d'articles sur les adolescents et jeunes sont des atouts
Avoir une bonne connaissance du contexte socioculturel et politique national
Langues:
Excellentes compétences en communication orale et écrite en Français.
Niveau professionnel en Anglais requis.
We are no longer accepting applications for this position.
Congo, Democratic Republic of the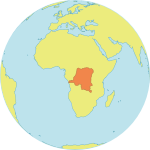 Population : 86.7 mil
Maternal Mortality Ratio
693
Contraceptives prevalence rate
25
Population aged 10-24
32%