National Post - Administrative/Finance Associate, Tunis, Tunisia, G-6
Contract Type: Fixed Term Appointment
Closing date: 8 March 2019 - 5:00pm(New York time)
Duty station: Tunis, Tunisia
Job ID: 21502
---
The Finance and administrative Associate is located in Tunisia Country Office (CO) and reports to the Assistant representative under the supervision of the Operation Specialist .
The Finance and Administrative Associate delivers quality services in HR, administration and finance to internal and external clients mastering all relevant rules, guidelines, processes and procedures. She/he works closely with programme and project staff providing financial monitoring and analysis of projects and advising managers on expenditure trend and implementation rate. She/he takes a client-oriented results-focused approach to interpreting the rules, procedures and guidelines, providing support and guidance to the CO and UNFPA-supported projects. S/he supervises clerical and support staff.
The Finance and Administrative Associate supervises administrative and clerical staff at the CO. Internal contacts include the Operations Specialist and the CO's programme/ technical team.
Education: 
Bachelor's degree in business administration, public administration, finance, economics or related field
Knowledge and Experience:
Six years of relevant experience in administration, finance or office management.
Proficiency in current office software applications and corporate IT financial systems.
We are no longer accepting applications for this position.
Tunisia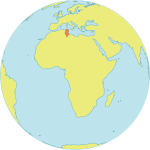 Population : 11.8 mil
Maternal Mortality Ratio
62
Contraceptives prevalence rate
67
Population aged 10-24
21%