NATIONAL POSITION: Programme Specialist GEWE, Ulaanbaatar, Mongolia CO, NOC
Contract Type: Fixed Term Appointment
Closing date: 10 May 2021 - 5:00pm(Ulaanbaatar time)
Duty station: Ulaanbaatar
Job ID: 36760
---
The Position:
The Programme Specialist, Gender Equality and Women's Empowerment is located in the Mongolia Country Office (CO) and reports to the UNFPA Assistant Representative.
How you can make a difference:
UNFPA is the lead UN agency for delivering a world where every pregnancy is wanted, every childbirth is safe and every young person's potential is fulfilled. UNFPA's strategic plan (2018-2021), focuses on three transformative results: to end preventable maternal deaths; end unmet need for family planning; and end gender-based violence and harmful practices.
In a world where fundamental human rights are at risk, we need principled and ethical staff, who embody these international norms and standards, and who will defend them courageously and with full conviction.
UNFPA is seeking candidates who can transform, inspire and deliver high impact and sustained programme results; who are transparent and professional in managing the resources and results efficiently and effectively; and who are committed to make a difference in ensuring sexual and reproductive health for all.
Job Purpose:
The Programme Specialist ensures the effective management of UNFPA activities in the areas of gender equality and women's empowerment with a particular focus on gender based violence (GBV). You will manage Gender Equality and Women's Empowerment Component (GEWE) of the Country Programme in a middle income context.
You lead gender the equality and women's empowerment programme formulation and evaluation, joint programming initiatives, ensure mainstreaming of gender concerns throughout all the programme components and provides advisory for national development frameworks.
You lead strengthening strategic partnerships in the area of gender equality and women's empowerment for UNFPA's mandate and programme delivery through proactive engagement, policy advocacy, resource mobilization and effective communication. You also work with the programme team and collaborates with the CO's operations/administrative support staff.
In collaboration with Government counterparts, NGOs and other partners, the Programme Specialist plays a leadership role for the formulation and design of the GEWE component of the country programme and its associated projects in line with Government priorities and according to UNFPA programme policies and procedures.
You lead achievement of programme results by ensuring appropriate policies and procedures are applied by programme team, and appropriate monitoring and oversight mechanisms are established and implemented.
Requirements:
Qualifications and Experience
Education:
Advanced degree in Gender Studies, Public health, Demography, or any other Social Sciences
Knowledge and Experience:  
Minimum five years of progressively relevant professional experience in the field of gender equality and women's rights, with responsibility for design, planning, implementation, monitoring and evaluation of development projects
Establishing effective relationships among international organizations and national counterparts, including civil society organizations
Specialized knowledge and proven experience in preventing and responding to gender based violence is essential
Experience in leading/managing a team is an asset
Minimum two years of experience in gender based violence
An experience in programme/ project management is required 
Languages:
Fluency both English and Mongolia is required.
We are no longer accepting applications for this position.
Mongolia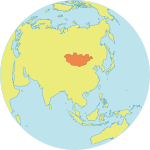 Population : 3.3 mil
Maternal Mortality Ratio
45
Contraceptives prevalence rate
41
Population aged 10-24
22.4%