Monitoring and Evaluation (M&E) Officer, P-3, Lilongwe, Malawi
Contract Type: Fixed Term Appointment
Closing date: 7 May 2021 - 5:00pm(New York time)
Duty station: Lilongwe, Malawi
Job ID: 36621
---
The Position:
The M&E Officer is located in UNFPA Malawi Country Office (CO) based in Lilongwe, Malawi. The M&E Officer will operate under Deputy Representative's overall supervision and under the guidance of Technical Advisor - Adolescent/Youth Sexual and Reproductive Health and Rights to support effective implementation of the 'Action for Teen Mothers and Adolescent Girls in Central Region programme funded by Korea International Cooperation Agency (KOICA).
The M&E Officer will work closely with other programme and operations officers so as to help ensure efficient, effective, and timely delivery of UNFPA Malawi's country programme results.  More specifically, the M&E Officer is responsible for establishing and maintaining a practical system for monitoring and evaluation of the 'Action for Teen Mothers and Adolescent Girls in Central Region' Programme. The M&E Officer will work in an integrated manner with the programme and technical staff in UNFPA and partner organizations to ensure the use of results-based indicators, project data collection and analysis to inform programming and readjustment processes.
The M&E Officer will play a critical role in UNFPA's on-going efforts to achieve transformative results with three zeros in Malawi, namely:  Zero preventable maternal deaths, zero unmet needs of family planning and zero gender based violence including child marriages, particularly by ensuring better integrated and coordinated programme delivery.
How you can make a difference:
UNFPA is the lead UN agency for delivering a world where every pregnancy is wanted, every childbirth is safe and every young person's potential is fulfilled. UNFPA Malawi Country Office is committed to deliver results outlined in the 8th Country Programme that started from 2019 and lasts till 2023, with clear outcomes in the areas of:
Sexual and reproductive health/rights
Adolescents and youth
Gender equality and women's empowerment
Population dynamics.
UNFPA Malawi is also a part of the United Nations Country Team and operates under United Nations Sustainable Development Cooperation Framework (UNSDCF) 2019-2023, fully embracing the UN development system reforms and stepping up its system wide support for the Government of Malawi.
Qualifications and Experience:
Education: 
Advanced university degree in a relevant discipline including public health, development studies, demography, international relations, business management, sociology, public administration or social science fields is required.
Knowledge and Experience:
Minimum of  5 years of experience in the fields of programme management, development cooperation or public health is required, which includes at least 2 years of experience in the field of monitoring and evaluation of development programmes/projects.
Working experience in developing results-based M&E frameworks, mechanisms and tools is desirable.
Prior experience in working in developing countries is desirable.
A good understanding of the UN system in general, and especially UNFPA mandate, policies and operations, is desirable. 
Prior experience of work in Malawi in the relevant fields of UNFPA mandate, including sexual & reproductive health and rights, youth/adolescents, and gender is an asset.
Demonstrated analytical, planning, and negotiation skills are required.
Demonstrated excellent communication skills, in terms of both written and oral, are required.
Languages:
Fluency in written and spoken English is required.
Fluency in written and spoken Korean is desirable.
Computer Skills:
Proficiency in current office software applications.
We are no longer accepting applications for this position.
Malawi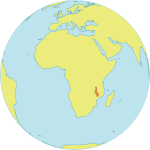 Population : 19.6 mil
Maternal Mortality Ratio
349
Contraceptives prevalence rate
48
Population aged 10-24
34.4%
Youth secondary school enrollment
Boys 81%
Girls 0.64%