JPO, Programme Analyst (Evaluation), New York (first year) and Cairo (second year)
Contract Type: Fixed Term Appointment
Closing date: 30 May 2018 - 6:00pm(New York time)
Duty station: New York, USA
---
This position is open to Swiss nationals only.
The applicants can be no more than 32 years of age.
Background
The UNFPA mandate is stipulated in the UNFPA Strategic Plan 2014-2017. The goals are the achievement of universal access to sexual and reproductive health (SRH), the realization of reproductive rights and the reduction in maternal mortality, to improve the lives of women and adolescents and youth. Enabling factors to attain the goals are evidence based analyses on population dynamics, human rights and gender equality. The four strategic outcomes are:
Increased availability and use of integrated sexual and reproductive health services that are gender responsive and meet human rights standards for quality of care and equity in access.
Increased priority of adolescents, especially on very young adolescent girls, in national development policies and programmes, particularly increased availability of comprehensive sexuality education and sexual and reproductive health services.
Advanced gender equality, women's and girls' empowerment, and reproductive rights, including for the most vulnerable and marginalized women, adolescents and youth.
Strengthened national policies and international development agendas through integration of evidence based analysis on population dynamics and their links to sustainable development, sexual and reproductive health and reproductive rights, HIV and gender equality.
The overall purpose of evaluation at UNFPA is to further increase performance and thereby contribute to the achievements of the outcomes above and ultimately to the achievements of the SDG's. 
The Evaluation Policy states three main purposes that support the organization's drive to achieve results. First, evaluation is a means to demonstrate accountability to stakeholders on invested resources and its contributions to achieving development results. Second, evaluation supports evidence based decision making, where utilization-focused evaluations can provide credible information to support such decision-making. Third, evaluation contributes important lessons learned on how UNFPA can best support programmes, striving to contribute to the Sustainable Development Goals (SDG's). To do this, the UNFPA evaluation function, and evaluations conducted for UNFPA needs to adhere to the following principles:
Independence and impartiality
Intentionality and quality (including the principle that all evaluations should meet the minimum quality standards and criteria defined by the Evaluation Office).
Transparency
Ethics
To translate the evaluation policy into practice, the independent Evaluation Office at UNFPA has a quadrennial budgeted evaluation plan for 2016-2019. The plan presents a strategic approach to planning and coverage of evaluations, aligned with the strategic plan and recognising the importance of high quality timely evaluations to inform decision-making and lessons learnt. 
The Evaluation Office has an important corporate function related to the strengthening of evaluation capacity, knowledge and skills across UNFPA. Many evaluations are commissioned and managed by monitoring and evaluation staff located in regional and/or in country offices. Challenges in terms of capacity and skills to effectively manage an evaluation, and to make sure that the evaluation is used once it is finalised, are evident. In addition, if internal evaluation capacity is low, there are evident challenges in terms of effectively supporting National evaluation capacity development, one goal recently endorsed in an UN resolution "Building capacity for the evaluation of development activities at the country level 
Qualifications and Experience
Postgraduate degree in social sciences or related fields 
At least 3 years, of experience in Result Based Management, monitoring, evaluation, research or capacity development work required 
Experience of quantitative and qualitative analysis of data and ability to use/work with survey tools required 
Experience of working with evaluation capacity development is an asset.
Prior experience from work in developing countries is an asset.
Sound mastery of information technology and data presentation techniques 
Strong interpersonal skills and ability to promote and cultivate good communication and a learning culture
Initiative, sound judgment and demonstrated ability to work harmoniously with staff members from different national and cultural backgrounds
Ability to write clearly and concisely.
Fluency in English required. French and/or Spanish would be an asset.
We are no longer accepting applications for this position.
United States of America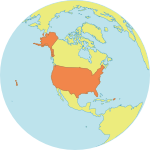 Population : 326.8 mil
Maternal Mortality Ratio
14
Contraceptives prevalence rate
74
Population aged 10-24
20%
Youth secondary school enrollment
Boys 90%
Girls 92%