International Programme Coordinator, Dakar, Senegal
Contract Type: Fixed Term Appointment
Closing date: 22 May 2019 - 5:00pm(New York time)
Duty station: Dakar, Senegal
Job ID: 23162
---
Position Summary:
The International Program Coordinator is responsible for the effective execution and successful implementation of the Canadian and Luxemburg projects; especially the formulation, implementation, coordination, technical and financial reporting, monitoring and evaluation of related interventions, in compliance with the national policies and program frameworks and the UNFPA Country Program in Senegal.
You will report directly to the UNFPA Country Representative.
Job Purpose:
Within the context of the new aid environment, organization-wide efforts are geared toward planning and managing aid resources more efficiently and effectively. Therefore, Country Offices are held accountable to deliver and demonstrate tangible quality results on the ground. You will lead the projects team to improve UNFPA's field presence by providing support for program management, facilitating partnerships, coordination and integration of thematic areas at the central level; reinforce synergy, cohesion and complementarity with other projects and initiatives of the Country Program, including Muskoka, Midwifery, Reproductive Health and Family Planning (SPSR/FP), GBV/FGM, FassE projects, etc.
You will play a vital role in ensuring the smooth running of the two projects, building and maintaining close relationships with donors and stakeholders, communicating regularly to support best practice in the projects management.
Qualifications and Experience
Education: 
Advanced university Degree in Health, Social Sciences or other related fields.
Experience and Knowledge:
At least seven years in projects and programs development and management, including experience in results-based management and ability to focus on results and national priorities;
Knowledge of National Health Systems;
Good experience in managing and coordinating partnerships with Government, Civil Society, Private Sector, UN Agencies, donors, bi and multilateral partners, etc.;
Excellent analytical, synthesis and writing skills;
Excellent capacity to manage the technical and financial formulation, implementation, execution and monitoring-evaluation of integrated development programs / projects;
Proven ability to lead and manage teams to achieve demonstrable and tangible results;
Good interpersonal and communication skills;
Good negotiation, advocacy and resource mobilization skills;
Strong field experience
Good command of basic computer software: Word, PowerPoint, Excel.
Languages:
Fluency in French, and proficiency in English.
We are no longer accepting applications for this position.
Senegal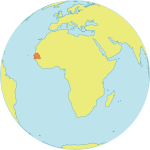 Population : 16.7 mil
Maternal Mortality Ratio
315
Contraceptives prevalence rate
26
Population aged 10-24
32%
Youth secondary school enrollment
Boys 35%
Girls 39%