International Individual Consultant- Revision and Contextualization of SOPS for the prevention and response to GBV in emergencies
Contract Type: Consultancy
Closing date: 6 June 2018 - 5:00pm(New York time)
Duty station: Islamabad, Pakistan
---
Duration: 24 days preferably start by 4rd week of June 2018
Closing date: 6 June 2018
Position Summary:
Emergency situations increases the vulnerability of women, girls, and boys to sexual and other forms of gender-based violence due to disruption of law and order as well as natural breakdown of social protection systems.
UNFPA seeks to prevent gender-based violence by increasing mutisectoral capacity and by using a continuum approach in development and humanitarian settings. UNFPA plays a prominent inter-agency role in leading the gender-based violence area of responsibility under the Global Protection Cluster.
In terms of providing leadership, UNFPA Pakistan has taken co-leadership roles in setting up the gender Humanitarian Task Force in Islamabad, GBV Sub-Cluster for KP-FATA and GBV Working Group in Sindh. In 2016, upstream policy work with the National Disaster Management Authority (NDMA) was started to ensure integration of GBV IASC Guidelines and UNFPA's Minimum Standards in the country's DRR policies and programmes.
UNFPA CO work with national and provincial institutions to strengthen national systems in GBV related policy, administrative protocols, and SOPs development, to ensure that internationally agreed standards and principles of survivor-centred care are incorporated in the practice of service providers from relevant sectors.
With this focus CO sees Joint Program for Essential Service Package as an opportunity to foster linkages across the continuum of development actors and emergency responders in the field of GBV. The synergies across standards/protocols for both settings would help build over time, sustainable human capacity within government institutions which is critical to respond to GBV in development and in   times of crises in a country like Pakistan. This will also enable the country to move towards achieving longer-term development and resilience gains (underpinned by a sustainable communications and advocacy strategy).
In view of prevalence of GBV in the pre-emergency social settings over the years there has been more recognition of the greater possibility and threat of GBV occurring in humanitarian settings. Responding to GBV requires coordination among all stakeholders to respond to the needs of the survivors or to put in place the prevention mechanisms both in development and humanitarian settings.  UNFPA provided technical support to NDMA for initiating the process of drafting SoPs for prevention and response to GBV (emergencies) in 2016. NDMA has shown its commitment to take this process one step forward and to facilitate the steps towards contextualization of SoPs and to provide policy guidance for providing protection and support to victims of violence in humanitarian crisis. The Standard Operating Procedures (SOPs) will facilitate joint action by all actors to prevent and respond to GBV.  Further to SoPs NDAM will also be initiating the process of development of interagency protocols to ensure smooth coordination and communication actions.
With this context, the UNFPA Country Office Pakistan is seeking the services of International Consultant to work closely with a National Consultant UNFPA and NDMA and its provincial counterparts to revise and contextualize SoPs for the prevention and response to GBV in emergencies.
Overall Objectives of the Assignment
Provide technical guidance to the National Consultant to undertake measures for strengthening the role of NDMA as coordinating body to support interagency GBV coordination mechanism and support systematic integration of GBV within the Gender Task Force (GTF). Develop SOPs based on the consultative meetings report prepared by the National Consultant. Support and oversee roll out of endorsed SOPs. Guide interventions, to support the continuum approach to prevention and response to GBV.
Key activities:
Conduct desk review of the national efforts since 2010 floods from the platform of GBV sub cluster with regards to GBV SOPs in emergencies.
Consult local, regional and global documents if any for GBV SOPs in emergencies and incorporate best practices and interventions.
Take the lead in revising GBV SoPs in close coordination with national consultant UNFPA, NDMA, GCC and provincial PDMA focal points.
Plan, guide national consultant to conduct and document consultative meetings in provinces to seek inputs for SOPs revision and contextualization process. 
Support systematic mainstreaming of GBV across continuum approach within the Gender Task Force (GTF) by guiding the National Consultant UNFPA.
Develop SOPs based on the consultative meetings report prepared by the National Consultant.
Develop GBV Sc Strategy in the light of the results of the FATA Vulnerability Analysis.
Deliverables
Final draft of "SOPs for the prevention and response to GBV in emergencies." approved by NDMA.
Background material for GBV mainstreaming training compiled for further use by GCC-NDMA.
TORs and strategy paper for mainstreaming GBV in Gender Task Force (GTF) along with work plan and intended actions for 2018.
GBV Sc strategy document keeping in consideration the continuum approach.
Duration and working schedule: 24 days preferably start by 4rd week of June 2018
The consultant will submit briefs and regular updates to senior management against the work plan deliverables.
Payments will be subjected to meeting quality standards for the deliverables and approval by NDMA.
The Consultant will report to the International Humanitarian Coordinator.  Day to day supervision will be handled by the Gender Analyst
The consultant shall work closely with the International Humanitarian Coordinator and will guide National Consultant on regular basis.  
Expected travel:   Distance Assignment 
Requirements
 
Education:
Masters in Social Sciences (Women/Gender studies, Anthropology, Sociology, and/or related Social Science fields and relevant experience in the field of Gender mainstreaming.
Knowledge and Experience
Demonstrated minimum 7 years of program management of Gender and/or GBV related programmes.
Familiarity with standards and guidelines for gender mainstreaming, including prevention and response mechanisms to address GBV.
Experience in training, facilitation, capacity building, etc.
Experience with development of knowledge management, guidelines or policy documents.
Familiarity with international humanitarian or development programming, coordination structures, and the mandates of donors, UN agencies, and other NGOs.
Familiarity/knowledge about working with government will be added asset.
Willingness to engage in local travels visiting Provinces in Pakistan, as required
Excellent English oral and written skills.
Be able to listen actively and respond effectively
HOW TO APPLY:
Applicants with the required qualifications and experience should submit a written cover letter of application, a copy of curriculum vitae (CV), relevant education certificates and the names and contact information of three references to the following email address nsyed@unfpa.org and clearly mentioning the consultancy as the subject of the email.
Applications should be addressed to UNFPA Pakistan Representative.
Attention: International Operations Manager, UNFPA, 2nd Floor Serena business Complex, G-5/1 Islamabad Pakistan
Email: nsyed@unfpa.org
For further details, please refer the attached detailed Consultancy announcement and also at UNFPA website: http://pakistan.unfpa.org
Note: Only those candidates who meet all qualifications and experience will be contacted for further consideration.
We are no longer accepting applications for this position.
Pakistan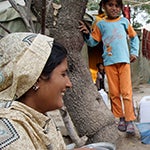 Population : 225.2 mil
Maternal Mortality Ratio
140
Contraceptives prevalence rate
25
Population aged 10-24
29.7%