Human Resources Intern, EECARO, Istanbul, Turkey - Re-opened
Contract Type: Internship
Closing date: 19 June 2018 - 5:00pm(New York time)
Duty station: Istanbul, Turkey
Job ID: 12259
---
Position Summary:
Financial Aspects
Interns do not receive a salary or any other form of remuneration from UNFPA. The costs associated with an intern's participation in the programme must be assumed either by the nominating institution, which may provide the required financial assistance to its students, or by the students themselves, who will have to meet living expenses as well as make their own arrangements for accommodation, travel and other requirements. In addition, applicants must have medical insurance for the duration of the internship. Proof of insurance will need to be submitted before the internship begins.
Organizational Setting
This intern reports to the HR Strategic Partner in EECARO (Eastern Europe and Central Asia Region) and has a strong collaboration with the EECARO International Operations Manager.
Qualifications and Experience
Active enrollment in or completion of a degree university programme in Human Resources, Organizational Development or Business Administration. 
Written and spoken proficiency in English is mandatory. Knowledge of other working languages of the UN is an asset.
International experience is desirable and will be considered as an asset.
Interest in the field of development.
Ability to adapt to new environments and to stablish and maintain good working relations with individual of different cultural backgrounds.
Results oriented and conscientious
Have strong communication skills: excellent listening skills and empathy, ability to write clearly and concisely
Excellent collaborative and team working capability
People focused: high level of concern and interest in delivering excellent customer service to internal clients
Demonstrate the ability to build and sustain effective working relationships with staff at all levels in the organization
Integrity: exercising the appropriate discretion when working with confidential and sensitive matters and information
We are no longer accepting applications for this position.
Turkey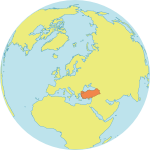 Population : 81.9 mil
Maternal Mortality Ratio
16
Contraceptives prevalence rate
75
Population aged 10-24
25%
Youth secondary school enrollment
Boys 88%
Girls 86%