HR Specialist, Global Humanitarian Coordinator, Division for Human Resources
Contract Type: Fixed Term Appointment
Closing date: 11 November 2020 - 5:00pm(New York time)
Duty station: New York, USA
Job ID: 33173
---
The Position:
You will develop, implement and/or coordinate the contributions of the Division for Human Resources to improve UNFPA's capacity to respond effectively to the fast growing humanitarian emergencies worldwide.
How you can make a difference:
UNFPA is the lead UN agency for delivering a world where every pregnancy is wanted, every childbirth is safe and every young person's potential is fulfilled. 
A growing number of countries exposed to humanitarian emergencies worldwide are experiencing a further deterioration of their humanitarian situation caused by ongoing and/or worsening conflicts and a variety of natural disasters destroying livelihoods, health services and infrastructure. This development is preoccupying UNFPA's humanitarian programme, which addresses the reproductive health needs that are often overlooked during humanitarian crises. During and after disasters, UNFPA deploys trained personnel to affected areas to  work closely with local governments, United Nations agencies, community organizations and other partners to provide life-saving reproductive health and protection services to millions of women, girls and young people affected by conflict or natural disasters. UNFPA also provides essential hygiene materials, contraception, and obstetric supplies, and trains health personnel to help vulnerable women and young people in crisis.
UNFPA has invested in developing a surge mechanism to enable personnel to be rapidly deployed to support humanitarian response in developing countries affected by acute onset emergencies. That capacity has been expanded in recent years to include, in addition to an internal staff roster, an external roster of independent personnel and standby partner personnel who bring vast humanitarian knowledge, experience and skill sets to UNFPA.
The UNFPA human resources function plays an important role in ensuring that the surge mechanism, associated learning interventions and transition to more protracted operations, as warranted, are governed by HR policies, programs and systems to effectively support these responses.
Job Purpose:
HR Specialist, Global Humanitarian Coordinator will ensure that the necessary HR policies, programs, practices and systems are in place for UNFPA to effectively respond to emerging humanitarian crises, including situations where the surge mechanism is used as well as more protracted responses. The Specialist will focus on maintaining and augmenting partnerships with relevant Standby Partners and government agencies to ensure the sustainability of the mechanism. 
Qualifications
Advanced university degree in human resources, business administration, public administration, gender studies, social and behavioral sciences or related discipline. 
Knowledge and Experience: 
• Seven years of progressively responsible experience in humanitarian aid, emergency response or human resources management, three of which must include international experience;
• Experience coordinating emergency staffing responses at the global level an asset;
• Proven experience working with Cluster Coordination/Inter-Agency reform related to emergency/humanitarian assistance;
• In-depth understanding of UN Staff Rules and Regulations required, and understanding of UNFPA Emergency HR guidelines an advantage
• Experience in training design and delivery;
• Proven ability to drive cultural change and advance innovation;
• Excellent organizational and analytical skills;
• Extremely flexible working style; 
• Strong collaboration and team skills;
• Excellent facilitation and communication skills;
• Field experience is an asset.
Languages: 
Fluency in English; knowledge of other official UN languages, preferably French and/or Spanish, is desirable. 
To view the complete job description and apply to this position, click "Apply Now" below.
United States of America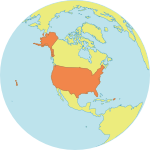 Population : 331 mil
Maternal Mortality Ratio
19
Contraceptives prevalence rate
64
Population aged 10-24
19.5%
Youth secondary school enrollment
Boys 92%
Girls 93%