Evaluation Analyst, Evaluation Office, New York, P-2
Contract Type: Fixed Term Appointment
Closing date: 16 March 2020 - 5:00pm(New York time)
Duty station: New York, USA
Job ID: 28759
---
The Position:
The position of Evaluation Analyst is located in the UNFPA Headquarters in New York and reports to the Director, UNFPA Evaluation Office, New York.
Support to evaluation managers in implementation of selected corporate evaluations within the Evaluation Plan;
Coordination of the evaluation quality assurance and assessment system;
Support to evaluation capacity development;
Contributes to Evaluation Office planning and reporting including contributing to the Annual Evaluation Plan and Report to the Executive Board.
Work Relations
External partners include UN agencies; donor community; international organizations and counterparts on substantive issues including NGOs and civil society organisations, community-based organisations, Academia, and Research Institutions, professional associations, and international evaluation specialists.
Internal partners include HQ Divisions and Branches, Regional and Country Offices and UNFPA technical networks, reference groups and expert working groups.
Qualifications and Experience
Education: 
Advanced university degree in public policy, public health, population/demography, international economics, and/or social science disciplines.
Knowledge and Experience:
Two years of professional experience conducting/ contributing to evaluations including experience in conducting evaluations in lower and middle income countries; ideally within the United Nations or a similar system;
Two years of professional experience conducting/ contributing to evaluations in areas of UNFPA mandate including sexual and reproductive health, gender, data and population dynamics, adolescents and youth;
Knowledge of decentralized evaluation systems and mechanisms
Excellent technical knowledge of evaluation approaches, evaluation design, data collection including qualitative and quantitative methods, methodologies for data analysis, preparation of evaluation reports, disseminating evaluation results;
Excellent knowledge of emerging global issues and evaluation trends that impact on the work of the Office and skills necessary to advance the evaluation function in the organization;
Excellent analytical, report writing and communication skills;
Excellent presentation (oral and written) skills and the ability to represent the evaluation office and to effectively communicate complex information in a clear and concise manner to all audiences;
Strong statistical skills and advanced user of Stata, SPSS and Excel;
Strong skills in conducting financial analysis and preparation, conduct and analysis of surveys;
Experience organizing conferences, stakeholder workshops, technical sessions;
Experience with Powerpoint, infographics and other presentation tools.
Languages:
Excellent written and spoken English language skills are required, advanced knowledge of French or Spanish would be an asset.
We are no longer accepting applications for this position.
United States of America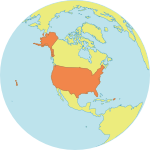 Population : 329.1 mil
Maternal Mortality Ratio
14
Contraceptives prevalence rate
74
Population aged 10-24
20%
Youth secondary school enrollment
Boys 92%
Girls 92%