Digital Project Manager Consultant - Country Office Websites
Contract Type: Consultancy
Closing date: 19 October 2020 - 5:00pm(New York time)
Duty station: New York, USA
---
The Digital Project Manager will assure the management and implementation of UNFPA country office campaigns and other stand alone digital projects and serve as interlocutor between UNFPA country office focal points, the design team and the development team.
The Digital Project Manager will report to the Digital Communications Manager and work in direct collaboration with guidance of the Digital Communications Officer (Country Offices). The Digital Project Manager will temporarily assume responsibilities for the Digital Communications Officer (Country Offices) during contract break.
The Digital Project Manager will contribute to the following projects:
 UNFPA Egypt Learning Management System, a distance learning platform featuring online trainings, resources and tools.
UNFPA Arab States Youth Forum platform, a youth-led digital space for the strengthening of youth development in the Arab region.
UNFPA Somalia FGM campaign, a pledge based website to advocate for the end of female genital mutilation in Somalia.
The list of projects can be subject to change.
 Essential Functions for the above projects:
Gather and evaluate user requirements
Wireframing and prototyping
Manage the conceptualization, design and implementation
Guide the design of user interface elements
Develop mockups and prototypes
Laise with Country Office focal points to identify requirements and needs
Evaluate and test new functionalities and match with user requirements to ensure consistent product quality
Manage and communicate with developers to identify and correct system malfunctions
Identify training needs and organize online training sessions for communications focal points, update and optimize user guides
Required Qualifications and Experience
Masters' degree in Communications, Advertising, Marketing, Public Relations, Digital Journalism, Business Administration, Management Information Systems or similar field;
Three years of relevant professional experience in project management, UX/UI design, communications or quality assurance;
Strong understanding Content Management Systems;
Experience with Learning Management Systems is an advantage;
Experience working with web development teams;
Proven service orientation with attention to detail;
Knowledge of design and web standards;
Understanding of social media platforms;
Familiarity with international development issues;
Fluency in English, knowledge of another UN language is a strong advantage.
Required Competencies:
Project management
Planning and organizing
Technological awareness
Communications proficiency
Teamwork
Interested applicants may submit a cover letter and CV/resume to web@unfpa.org.  Applications due no later than 19 October 2020.
We are no longer accepting applications for this position.
United States of America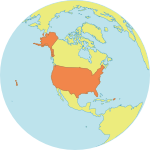 Population : 331 mil
Maternal Mortality Ratio
19
Contraceptives prevalence rate
64
Population aged 10-24
19.5%
Youth secondary school enrollment
Boys 92%
Girls 93%