Consultancy - Integration Application Developer, Baghdad, Iraq
Contract Type: Consultancy
Closing date: 7 April 2020 - 5:00pm(New York time)
Duty station: Baghdad, Iraq
---
Opening for International Consultancy of Integration Application Developer in Iraq-Baghdad
Duty Station:                                              Baghdad
Duration of the contract and timeline:    3 Months
Grade/Level:                                               Equivalent to P2
Contract type:                                            International Individual Consultant                   
Deadline for applications:                         7 April 2020- 5:00pm (Baghdad time)
Background
Under the overall supervision of the Census National Chief Technical Adviser and under the direct supervision and directions of the National Information Communication Technology Technical Specialist the Integration Application Developer shall support Central Statistical Organization, Ministry of Planning, Government of Iraq in planning, executing, and managing the integration of new applications into the existing system throughout the enterprise. This will entail a close coordination with different units within CSO.
Job Purpose
The Iraqi government plans to conduct the population Census in 2020. UNFPA Iraq CO is geared to provide technical support to the Central Statistical Office (CSO) to conduct the Population Census in 2020.
In line with UN/UNFPA policies and guidelines, and internationally established standards and recommendations for census undertaking, the Integration Application Developer will perform various tasks and provide vital technical inputs to all activities pertaining to census operations at the appropriate stages of the process. In addition, the incumbent will provide support in implementing and documenting activities aimed at increasing stakeholder participations throughout the census process.
Major Activities/Expected Results
The application integration specialist job responsibilities include planning, executing, and managing the integration of new applications into the existing system throughout the enterprise. However, following are some of the other common application integration specialist responsibilities:
Keep a track on integration projects and ensure that they meet business requirements and goals
Fulfill the end user requirements
Identify and resolve the system issues
Making recommendation of the integration products and services by carrying out proper researches
Collaborate with the vendors to identify the features that might be of value.
Work with the analysts, system designers, and business owners to lead in the integration testing phase
Communicate with the software developers and engineers to address any problem in the program logic
Checking for any issues with the operation of the new applications with the existing system software and applications
Improve the business process by integration
Minimizing the impact of integration on various existing processes
Evaluating the results of the integration projects and preparing reports for the same
Train the employees on new application features
Job Requirements
Qualification:
Advanced University Degree in Technology/science/Information Technology/Engineering.
Technical Expertise:
Minimum 5-7 years of experience of application integration using the Websphere application integration suite
Java / JEE, .NET Programming, and frameworks
Websphere integration frameworks
Expert in SOA messaging
Extensive knowledge about even driven systems, schema, orchestration, mapping, and ESB exception handling
Expert in database engineering using Oracle and SQL development
Knowledge about various architectures and protocols such as MOM, XSLT, SOA, UDDI, EDA, REST, XML, FTP, WSDL, and SOAP
Expert knowledge about secure transmissions, digital certificated, and PKI
Strong experience with data architecture and application architecture
Languages:
Fluency in English is required.  Knowledge of Arabic is an asset.
How to apply
Kindly forward your completed P11 or CV to the email address vacancy.iraq@unfpa.org indicating the post title in the e-mail's subject before the deadline of 7 April 2020.
We are no longer accepting applications for this position.
Iraq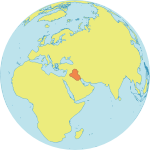 Population : 40.2 mil
Maternal Mortality Ratio
79
Contraceptives prevalence rate
37
Population aged 10-24
31.1%