Civil Society Coordinator, Strategic Partnerships Branch (SPB), Division of Communications and Strategic Partnerships(DCS), New York, P-5
Contract Type: Fixed Term Appointment
Closing date: 23 July 2020 - 5:00pm(New York time)
Duty station: New York
Job ID: 31645
---
The Position:
 
The Civil Society Coordinator is located in the Strategic Partnerships Branch(SPB) in the Division of Communications and Strategic Partnerships(DCS).  The incumbent will collaborate across teams engaging with civil society partners and will report to the Chief, Strategic Partnerships Branch.  
 
How you can make a difference:
 
UNFPA is the lead UN agency for delivering a world where every pregnancy is wanted, every childbirth is safe and every young person's potential is fulfilled.  UNFPA's new strategic plan (2018-2021), focuses on three transformative results: to end preventable maternal deaths; end unmet need for family planning; and end gender-based violence and harmful practices. 
In a world where fundamental human rights are at risk, we need principled and ethical staff, who embody these international norms and standards, and who will defend them courageously and with full conviction.
UNFPA is seeking candidates that transform, inspire and deliver high impact and sustained results; we need staff who are transparent, exceptional in how they manage the resources entrusted to them and who commit to deliver excellence in programme results.
 
Job Purpose:
 
In line with UNFPA's Strategic Plan 2018-2021 and the Strategic Partnerships Framework, the Civil Society Coordinator(CSC) supports the establishment of a conducive environment for UNFPA's mandate, leading the strategic positioning of the UNFPA agenda with Civil Society partners.  In this role, the Coordinator will be a visible, consistent and reliable internal and external entry point for CS to UNFPA with a view of expanding the community of support to the ICPD Agenda: therefore  the CSC creates sustainable coalitions that advance the organizations multilateral affairs agenda and serves as advocate for UNFPA within the CS community.  Identifying opportunities for aligning and amplifying specific CS perspectives and priorities with the work of UNFPA, the CSC builds trust with a vital community of partners, ensures relevance and consistency of UNFPA engagements with Civil Society, and will take necessary actions to generate broad support and the advocacy base within the Civil Society community to expand the organization's reach and capacity to deliver. 
Requirements:
Qualifications and Experience:
Education:
 
Advanced Masters Degree or equivalent in Social Sciences, Communications, Public Affairs or Development Studies.
 
Knowledge and Experience:
 
• 10 years of relevant and increasingly responsible professional experience in outreach, developing and managing strategic partnerships with CSOs, as well as with other stakeholders, including parliamentarians, which are key to position UNFPA's Agenda at the national, regional and global level.
• Knowledge of the ICPD agenda is essential. Strong inter-personal and public speaking skills, team work, excellent speech writing and business development acumen are also required.
• Experience with civil society in Program Countries is an added value for the position.
 Languages:
• Proficiency in English required. Knowledge of an additional UN language an asset.
We are no longer accepting applications for this position.
United States of America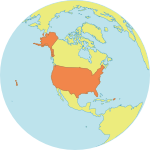 Population : 331 mil
Maternal Mortality Ratio
19
Contraceptives prevalence rate
64
Population aged 10-24
19.5%
Youth secondary school enrollment
Boys 92%
Girls 93%