Chief, Executive Board Branch (EBB), Office of the Executive Director, New York, D-1
Contract Type: Fixed Term Appointment
Closing date: 15 February 2019 - 5:00pm(New York time)
Duty station: New York
Job ID: 20782
---
The position:
The post is located in the Executive Board Branch which works with UN member states, UN agencies and civil society organizations to promote and enhance the ICPD agenda and UNFPA positions in the Executive Board of UNDP/UNFPA/UNOPS and related intergovernmental fora. This post reports to the Chief of Staff, OED and has supervisory responsibility for EBB to assist in achieving organizational objectives in inter-governmental processes, UN reform inter-agency coordination and partnerships with civil society for political positioning.
Job Purpose:
Strategic leadership of the Branch;
Day to day management;
Develop strategies for Executive Board and other related governance structures and processes relevant to ICPD and UNFPA;
Develop strategies to ensure that UNFPA enjoys a positive image in the Executive Board of the Fund and Board decisions are supportive of management objectives;
Develop strategies to ensure that the ICPD agenda is protected and promoted and UN reforms advance this agenda and places population and development issues at the center of the global development agenda;
Develop strategies to strengthen relations with external partners including civil society organizations to advance UNFPA's political objectives in the Executive Board and processes related to operational activity;
Provide day to day leadership on management issues, particularly to ensure effective coordination among EBB staff;
Provide managerial responsibility for human, financial and material resources of the Branch.
Requiements:
Qualifications and Experience
Education: 
Advanced University Degree in Social Sciences, Development, Diplomacy and International Relations.
Knowledge and Experience:
15 years of relevant and increasingly responsible professional and managerial experience in development and multilateral institutions or government at the national and international levels;
Knowledge of the ICPD agenda essential; prior experience in the UN system an asset;
Strong inter-personal skills, strong public speaking skills; excellent speech writing and report writing skills.
Languages:
Proficiency in English required;Knowledge of an additional UN language an asset.
We are no longer accepting applications for this position.
United States of America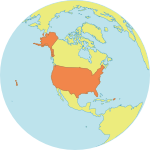 Population : 331 mil
Maternal Mortality Ratio
19
Contraceptives prevalence rate
64
Population aged 10-24
19.5%
Youth secondary school enrollment
Boys 92%
Girls 93%