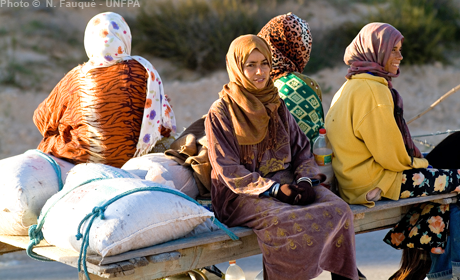 UNFPA Tunisia
Tunisia is a middle-income country where life expectancy is growing, maternal and newborn mortality are down, and contraceptive prevalence is up. But progress is uneven between rural and more industrialized regions. Operating in Tunisia since 1974, UNFPA helps extend reproductive health services, especially in remote rural areas, towards upholding the right of all people to access information and care. Youth and adolescents are a central focus, and UNFPA partners with the Government and civil society to target services to them and involve them in development planning. UNFPA programmes also support the advancement gender equality as a key priority.
Population
Population aged 0-14

Population aged 15-64

Population aged 65+
Maternal and newborn health
Births attended by skilled health personnel
Sexual and reproductive health
CPR any method

Unmet need
Education
Fertility
Total fertility rate, per woman, 2010-2015
Life expectancy
Life expectancy at birth (years), 2010-2015
Programme activities
All resources

Core

Non - core
Dashboards available for Tunisia
News
ILOILO, Philippines – "I was shocked when I found out I was pregnant," said Gina*, now 19.
UNITED NATIONS, New York/KHANKE and DOHUK, Iraq – "I was sold more than once,"
Pages