Ireland
Country Logo
Donor Rankings, 2019
30 th
Non Core Contributions
24 th
Overall Contributions
The development and foreign policy priorities of Ireland strongly align with the work and mandate of UNFPA. Ireland's policy for international development names gender equality and strengthening governance to realise human rights as two of four overarching policy priorities. The policy commits to intensifying work in intervention clusters on protection and people, including health and education action. Ireland's policy focus aligns strongly with UNFPA's work on ending maternal and infant mortality, promoting universal access to quality maternal and reproductive health care, supporting safe motherhood, promoting HIV/AIDS prevention strategies, and ending harmful practices against women and girls including gender-based violence and female genital mutilation.  UNFPA's humanitarian work aligns with the Government of Ireland's policy priority on reducing humanitarian need and its focus on human rights and fragile contexts.
Specific areas of collaboration between the Government of Ireland and UNFPA include: Gender-based violence prevention and response; support for sexual and reproductive health; promotion of HIV prevention; supporting population and housing censuses; reduction of teenage pregnancy; abandonment of female genital mutilation; contributions to UNFPA Supplies Programme to improve the health and well-being of women and girls everywhere and the Maternal Health Thematic Fund, which provides midwifery training, obstetric fistula repair surgeries and other activities to strengthen maternal health services; and support to the organisation of the International Conference on Population and Development (ICPD)+25 event in Nairobi and the full implementation of the ICPD Programme of Action.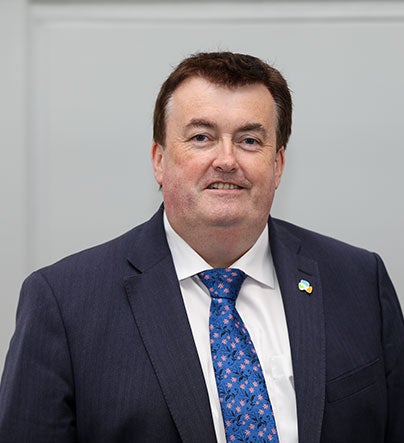 Ireland is a longstanding supporter of UNFPA and I commend the vital work being undertaken by the organisation. Its work addresses not only the vital issues of maternal and reproductive health but also the fundamental challenges of gender equality and women's empowerment.As we work towards the global implementation of the Sustainable Development Goals, Ireland continues to place a high priority on our partnership with UNFPA. The ambitious vision of the 2030 Agenda for Sustainable Development can only be achieved if we address the inequalities – including gender and reproductive health inequalities – which hold women and girls back from realising their rights and ambitions.

Colm Brophy TD, Minister of State for Overseas Development and Diaspora, Ireland
News & Updates
PORT LOKO, Sierra Leone – Fatmata Sesay was 15 years old when she became pregnant. Her parents forced her to move in with her boyfriend, who was neither in school nor employed. Moving in with him felt like an underage…
FREETOWN, Sierra Leone – The horrific Ebola outbreak in West Africa came to an end one year ago. The crisis left over 3,900 Sierra Leoneans dead and health systems in disarray – yet the true toll of the epidemic has…
MAKONDE, Zimbabwe – Three years ago, Sibongile Majaura was on the cusp of dropping out of school, a misfortune all too familiar to girls in Zimbabwe.  But she has defied the odds. With just a little investment and a lot…
Contributions Since 2014
The bar chart reflects overall core and non-core revenue recognized in a given year. Most contributions are received in national currencies. Fluctuations of exchange rates can impact US dollar equivalents.
The pie chart represents overall core and non-core revenue recognized in a given year, with additional details for non-core funds.
Donors are displayed in order of overall contributions to UNFPA in a given year, as indicated by the drop-down menu.
2019
|
Top
Donor Global Statistics