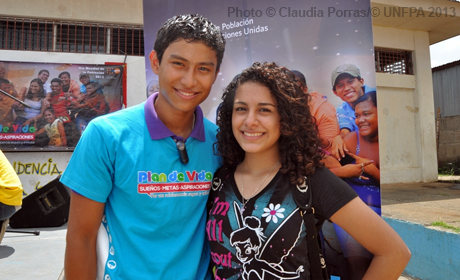 UNFPA Nicaragua
Active in Nicaragua since 1974, UNFPA supports the inclusion of issues related to population dynamics, young people, sexual and reproductive health, and gender-based violence into public policies. Nicaragua has successfully incorporated reproductive rights in its health and education laws and policies, and made headway in reducing maternal mortality. But key challenges remain, including a high adolescent pregnancy rate. UNFPA strengthens capacities to provide high quality maternal health and newborn care, comprehensive sexuality education for young people, and investments in the country's "demographic dividend". It also backs measures to prevent and respond to gender-based violence.
Population
Population aged 0-14

Population aged 15-64

Population aged 65+
Maternal and newborn health
Births attended by skilled health personnel
Sexual and reproductive health
CPR any method

Unmet need
Education
Fertility
Total fertility rate, per woman, 2010-2015
Life expectancy
Life expectancy at birth (years), 2010-2015
Programme activities
All resources

Core

Non - core
Dashboards available for Nicaragua
News
NEW YORK — While mortality from cervical cancer has been curbed among women in developed countries, it remain
Wendy Medina Sanchez was a pretty girl once. No longer.
Pages