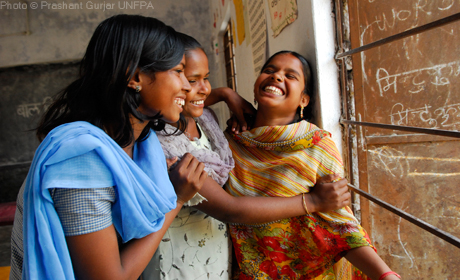 UNFPA India
Although its fertility rate has declined from about 3.6 to 2.4 children in the last three decades, India is projected to become the world's most populous nation by 2028, with a population of some 1.45 billion. Now a middle-income country, India has seen significant improvements in health and education but wide inequalities persist. Maternal mortality and gender discrimination remain high. Early marriage and pregnancy contribute to excessive maternal death among women under 24. The low status of women is a factor as well, one that is reflected in an extremely skewed ratio of girls to boys.
Population
Population aged 0-14

Population aged 15-64

Population aged 65+
Maternal and newborn health
Births attended by skilled health personnel
Sexual and reproductive health
CPR any method

Unmet need
Education
Fertility
Total fertility rate, per woman, 2010-2015
Life expectancy
Life expectancy at birth (years), 2010-2015
Programme activities
All resources

Core

Non - core
All contraceptives - India
Dashboards available for India
News
CUTTACK, India — The district administration on Tuesday commercially launched the low cost sanitary napkins manufact
NEW DELHI--- During his recent trip to India, UNFPA Executive Director Dr.
Pages