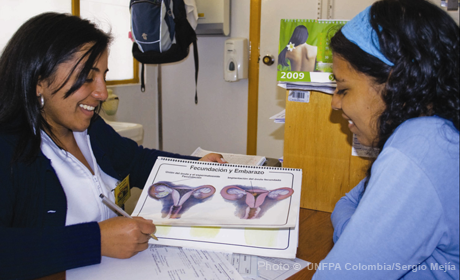 UNFPA Colombia
Colombia is a middle-income country, but development lags behind in some rural areas and among four million people uprooted by conflict. Adolescent fertility is high, though overall rates have fallen. The maternal mortality rate indicates gaps in health services. Active in Colombia since 1974, UNFPA helps cultivate state capacities to manage population, reproductive health and gender equity issues, including through integrated services for people suffering displacement and poverty. It encourages women's and youth organizations to advocate for their sexual and reproductive health and reproductive rights, and promotes a life-cycle approach to reproductive health care.
Population
Population aged 0-14

Population aged 15-64

Population aged 65+
Maternal and newborn health
Births attended by skilled health personnel
Sexual and reproductive health
CPR any method

Unmet need
Education
Fertility
Total fertility rate, per woman, 2010-2015
Life expectancy
Life expectancy at birth (years), 2010-2015
Programme activities
All resources

Core

Non - core
Dashboards available for Colombia
News
VILLAVICENCIO, Colombia – "I was 14 years old when my family fled," said Viviana, now 26.
BOGOTA — UNFPA Executive Director Dr.
Pages