The baby girl on the poster gazes at the passengers, a small purple bow holding together her sprouting strands of hair, tears rolling down her cheeks. "Got a good job?" she asks. "I cost thousands of dollars each year."
This image is part of a teen pregnancy prevention campaign aimed at showing the high cost of teen pregnancy for teen parents and their children. Launched by the City of New York's Human Resources Administration in March 2013, it features posters with hard-hitting facts about the money and time costs of parenting, and the negative consequences of having a child too early.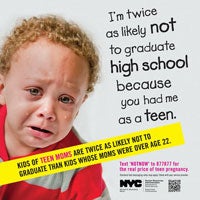 The campaign has generated controversy and spurred a heated debate about how best to address the issue of adolescent pregnancy.
Detractors have condemned the focus on stigmatizing and shaming teen parents at the expense of addressing the root causes of teen pregnancy.
"The latest NYC ad campaign creates stigma, hostility, and negative public opinions about teen pregnancy and parenthood rather than offering alternative aspirations for young people," said Haydee Morales, Vice President of Education and Training at Planned Parenthood of New York City in a statement denouncing the campaign. "The City's money would be better spent helping teens access health care, birth control, and high-quality sexual and reproductive health education, not on an ad campaign intended to create shock value."
But supporters believe striking ads like these can help achieve results and raise awareness of the risks and costs of teen pregnancy.
"We cannot dictate how people live their lives, and sometimes even the best plans don't work out, but we must encourage responsibility and send the right message, especially to young people," said NYC Human Resources Administration Commissioner Robert Doar said in a statement explaining the rationale behind the campaign.
New York City Mayor Michael Bloomberg is supporting the ads: "This campaign makes very clear to young people that there's a lot at stake when it comes to deciding to raise a child," he said in a press conference. "We aim to build on our success by asking teens to take an honest look at some of the realities of parenthood they may not have considered. By focusing on responsibility and the importance of education, employment, and family in providing children with the emotional and financial support they need, we'll let thousands of young New Yorkers know that waiting to become a parent could be the best decision they ever make."
While New York City's teen pregnancy rate fell by 27 per cent in the past decade and contraception use is increasing, there are still more than 20,000 teen pregnancies annually, 87 per cent of which are unintended.
The campaign ads are posted on subways and bus shelters around the city. They also includes a number that teens can text to get more information about unintended pregnancies.
Chicago's 'pregnant boys' ads turn the tables on the adolescent pregnancy prevention debate
In May, the city of Chicago also chose a shock-factor approach to raise awareness about teen pregnancy, launching its own controversial campaign featuring attention-grabbing images of teenage boys digitally edited to make them look pregnant.
Developed by the Chicago Health Department to challenge gender roles related to teen pregnancy and parenthood., the 'pregnant boys' ads are accompanied by the tagline: "Unexpected? Most teen pregnancies are."
There is no shaming of teenage parents involved here, but the campaign has also attracted its fair share of controversy, mostly due to the striking imagery involved. Its detractors have criticized the sensationalism of the concept, but others have pointed to the importance of engaging teenage boys in prevention efforts and praised the attention the issue has garnered through the ads.
Even though the teenage birth rate in Chicago has dropped by 33 percent since 1999, it remains one of the highest in the United States, one and a half times higher than the national average.
– Nicole Foster